The Day Chaminade Made History

By
.(JavaScript must be enabled to view this email address)
Wednesday - November 07, 2007
|
Share

Del.icio.us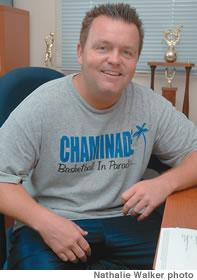 Chaminade coach Matt Mahar
Some television moments stick with you forever. I recall exactly where I was when Doug Flutie made the "Hail Mary" pass (my then-living room in Sacramento, Calif., watching the game with my dad), and where I was when Kirk Gibson hit his unbelievable home run in the World Series (my grandfather's living room near Punchbowl).
And I was in my parent's living room in Orange County, Ca. (on a Christmas visit home from my regular sportscaster job in Iowa) when the L.A. sportscaster broke the news that stunned an entire nation - Chaminade had just beaten No. 1-Virginia!
It happened 25 basketball seasons ago - Dec. 23, 1982. Nobody in the basketball world - nobody in the entire sports world - could believe it. It's been written that Tom Mees of ESPN SportsCenter refused to report the news when he first got it. He wanted verification. So did just about everybody else.
I recall that I practically fell off the couch. And I'm pretty certain that the L.A. sportscaster mispronounced the school's name. Most people did in those first few hours and days afterward - calling the tiny NAIA school of 800 students in St. Louis Heights "ChammiNAID," rhyming it with lemonade.
The greatest headline came naturally: Yes, Virginia, There is a Chaminade.
On Dec. 23, 1982, the Chaminade University basketball team beat No. 1 Virginia
Even with Appalachian State's shocking win over Michigan to start this college football season, Chaminade's 77-72 win over mighty Ralph Sampson and Virginia is still the greatest upset in college sports history. Arguably, only the USA upset of the Soviets in Olympic hockey and the Buster Douglas shocker over heavyweight boxer Mike Tyson come close in sports upsets.
But for the 3,500 who were there that night at the Blaisdell, that term is relative - they know this couldn't have been any bigger. Michael Wilbon, who has gone on to nationwide sports fame as a commentator for ESPN, was there as a young sportswriter. He watched as Sampson, the almost-legendary 7-foot-4-inch giant, got neutralized by the Silverswords' Tony Randolph, Chaminade's 6-foot-7-inch center who played against Sampson in high school.
There were also Tim Dunham and Mark Rodrigues and Richard Haenisch and Coach Merv Lopes. There was also starting point guard Mark Wells, who tragically died a couple of years ago on Maui, having never really getting his life together after college.
Ironically, it's on Maui where Chaminade, now playing at the NCAA Division II level in the PacWest Conference, will begin this 25th anniversary season of the "Giant-Killing" this month. The annual Maui Invitational tips off Nov. 19-21 with the Silverswords facing Marquette in the Monday opener. Other teams in the prestigious tournament include Duke, Illinois, LSU, Arizona State, Oklahoma State and Princeton.
There is no Virginia this year, unlike in the 20th anniversary season five years ago, when Virginia won the "rematch" 86-72. Matt Mahar, the head coach of this year's Chaminade team, was an assistant for the program five years ago and remembers the feeling of meeting the players associated with the game for the first time.
"I was like 'Holy cow!'" he says. "I was just a young kid when it happened, but my dad was a basketball coach and I learned how important it was."
Mahar says the upset over Virginia and the ensuing popularity of the Maui Invitational has been a real plus for his Silversword recruiting efforts.
"It's our biggest recruiting tool," he says. "We let the kids know that they will get that same opportunity to come in here and be 'Giant Killers.' Most of them are too young to know about the Virginia game, but we tell them about our 2003 game in the Maui Invitational when we beat Villanova."
Because of games like Chaminade-Virginia, athletes believe that anything is possible. Mahar puts it into perspective.
"When you're playing 2-on-2 in your driveway," he says, "you always want to be Chaminade - the underdogs, the little guys who beat the big guys, the giant killers. Chaminade is synonymous with that."
It's all about a night 25 years ago that no sports fan will ever forget - no matter where you were and no matter where you are today.
Most Recent Comment(s):