The Family That Runs Together

By
.(JavaScript must be enabled to view this email address)
Wednesday - August 03, 2011
|
Share

Del.icio.us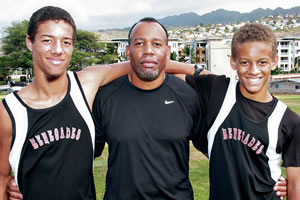 The Pettys: Cedric Jr., Cedric and Lamont. Anthony Consillio photo
Cedric Petty is a former MidWeek employee he worked several years ago in the publication's Kaneohe warehouse with a history as a track and field athlete while he was in the Navy. Now approaching the age of 50 his Big 5-0 is in September Cedric recently went back to the track as a competitor.
But he didn't do it for himself. He did it for his sons.
"I hadn't competed in 25 years, and I came in last in all my races," he says. "This was totally about them."
Petty's two sons are 15-yearold Cedric Jr. and 13-year-old Lamont. The oldest will be a sophomore at Castle High School; the younger an eighth-grader at King Intermediate. Both joined their Dad as part of the Renegades track team in the Hawaii summer series which wrapped up July 23 with a meet at Kaiser High School.
In the final meet of the season, Lamont had two second places and two third places while running the 100, 200, 400 and 4 X 100. Cedric Jr., meanwhile, placed first in his age division in the 400, 800 and 1,500. Dad competed in the Masters division, running against competitors several years younger than him.
"I didn't do that well, but it was fun to get out there," he says. "My youngest really surprised me. And my oldest has always been very successful.
"This is so great that our whole family can participate in something that we all enjoy," Cedric Jr. says.
"It's fun because we challenge each other," Lamont says.
Cedric Jr. has been turning some heads with his fast times.
As a freshman last year at Castle, he won the OIA East junior varsity title in the 400, 800, 1500, and 3,000 meters. He won the first 10K he ever participated in the prestigious Kailua 10K winning the overall title against all age groups.
"I was really surprised," he says.
When you hear about a Castle athlete who wins in so many different races, it's easy to conjure up the name of the school's most famous track and field athlete Olympic gold medal-winning decathlete Bryan Clay. The Petty family has heard the comparisons.
"People keep telling me I can be the next Bryan Clay I'd love to be like him, and I know if I want that, I have to start now," the soph-to-be says. "I actually met him two years ago when he had a clinic. He's really cool and down to earth, and I learned a lot from him. Every day I use some of his techniques."
"I've heard the references and it's flattering," Dad says. "But I don't know if he'll be the next Bryan Clay he'll be the first himself. I've told him that there's always going to be somebody better. You have to let your running speak for itself. He is very humble he just runs, and moves on, and doesn't have a big head."
Lamont also enjoys his older brother's success. "He's too fast for me," he says. "One day, I want to be like him."
Lamont recently picked up a big win away from the track. He was one of 23 Oahu winners selected for recognition in the Hawaii Pizza Hut Teen Summer Reading Program. Lamont was the winner from the Kaneohe Library. His dad is just as proud about that accomplishment as he was of his sons' success on the track. Apparently, the family that runs together also reads together.
That's the Petty family from Kaneohe pretty fast company, for sure.
Most Recent Comment(s):