The Fight Of Rick Saunders' Life

By
.(JavaScript must be enabled to view this email address)
Wednesday - May 21, 2008
|
Share

Del.icio.us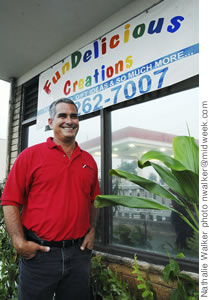 Saunders gave up coaching, but still operates FunDelicious Creations
Rick Saunders had it all. Agreat family, a good job, and the ability and passion to work with young people as a coach.
He had been a tough and very competitive football player in his youth and an all-star at Kamehameha. He walked on at the University of Hawaii, where he played for both Dick Tomey and Bob Wagner from 1983 to '87. After just a year in Manoa he earned a full-ride scholarship and started at defensive back for the 'Bows his last two seasons.
When that competitive career as a player ended, Saunders began coaching football at Punahou and then at his alma mater of Kamehameha. He loved it.
"Being born and raised in Hawaii, to play at UH and then to work with kids, there was nothing greater," he says.
But then it stopped - suddenly, shockingly.
"Back in November 2007 I was coaching at Kamehameha and I was having numbness in my hands. Then (the numbness) went up my right arm and down my side. I got very concerned and went to a doctor and did an MRI," Saunders recalls. "I got a call back that weekend, and I thought that was strange because why would my doctor be calling me back on the weekend?"
The doctor was on the phone to advise Saunders to see a specialist immediately, which he did. The diagnosis came quickly - Saunders had MS, multiple sclerosis, a disabling autoimmune disorder that attacks the central nervous system.
There is currently no cure.
"It threw me for a loop," he says. "The hardest part was telling my kids. They were devastated and broke down and cried. I had to be strong."
Saunders'three children are Mia, 18, Kayla, 15, and R.P., 13. Along with the rest of his family and friends, they rallied around their dad.
"They've been so supportive," he says. "Mia goes to the University of San Diego, and now says she wants to become a doctor. I told her that maybe this is her calling."
Saunders immediately started treatment and he continues to work at Horizon Lines in Honolulu and with his company FunDelicious Creations, but he had to give up many things. For one, he's a lieutenant in the U.S. Navy Reserve and he was scheduled to be deployed to Iraq this past February. Now, with MS, that didn't happen and he was very disappointed because he looked forward to serving his country overseas. He is now awaiting a ruling from the Medical Review Board.
And worst of all, he had to give up coaching.
"This year, I've had to step down due to my MS," he says. "It was the hardest thing I ever had to do. I just loved coaching the kids over the years."
He says he finds his strength through association with former players who are now coaches themselves.
"It's neat that so many of my former players are into coaching," he says. "One of them told me that when he talks to his players now he swears he hears me talking. That's a great feeling to know I had that impact."
Saunders continues to work hard in his daily life and remains positive. He has spent countless hours studying the disorder and wants to educate others who are afflicted or who simply want to help. This has become his own new calling.
"I've done the MS Walk and I've gotten involved with the MS Society of Hawaii," he says. He's also set up a fundraising company to help raise money and awareness. You can find more information about it by going to http://www.fundelicious.com, or call 262-7007.
"You have your good days and your bad," he says. "I have to get shots once a week and that brings on flu-like symptoms (the next day). But I'm pushing forward with a lot of prayers. It's all good."
So Rick Saunders continues to compete - and compete hard - against the toughest opponent he's ever had.
Above all, he believes.
"One day, I'd like to get back to coaching," he says. "That's my passion."
Most Recent Comment(s):