The Flyin' Hawaiian: No. 1 With Fans

By
.(JavaScript must be enabled to view this email address)
Wednesday - May 04, 2011
|
Share

Del.icio.us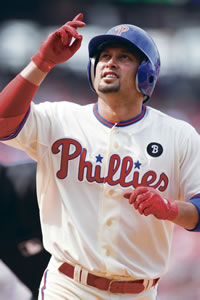 Philadelphia Phillies' Shane Victorino scores in the eighth inning against the Milwaukee Brewers during a baseball game April 20 in Philadelphia. The Phillies won 4-3. AP photo/The News-Journal, Suchat Pederson
I remember interviewing Shane Victorino on my radio show a few years back and we joked about the fact that many fans in the Philadelphia area thought his last name was Italian. Phillies fans weren't the only ones to make that mistake - a couple of years later, he received a call asking him to play for the Italian team in the World Baseball Classic.
"But I'm Portuguese," was Victorino's response. He's also part-Hawaiian, -Japanese and -English. "The Flyin' Hawaiian," as he's known, is a fan favorite wherever he goes, known for his blazing speed, great arm and hot bat.
I got a chance to see him play in person this season just one day after he hit an inside-the-park home run for the Phillies as they completed a sweep of the Padres in San Diego.
Victorino is hitting nearly .300 in his traditional lead-off role, and Philadelphia is off to another fantastic start in its quest to wins its second World Series title in four years.
Watching him play, and thinking back about his tremendous success since he broke into the Phillies starting lineup in 2006 - three gold gloves as a centerfielder, a World Series ring, an all-star - it made me think. Is Shane Victorino the greatest major leaguer ever with Hawaii ties?
You could certainly make a point for that. At 30 years old, this is Victorino's eighth season in the big leagues. He currently has scored more runs, hit more doubles and triples and more extra base hits, and stolen more bases than any other Major Leaguer with Hawaii ties. He also currently has the best-ever lifetime batting average (right around .280), and should surpass Mike Lum this year for most ever hits and most total bases.
"Greatest ever" is a subjective term, for sure. I've always admired the great talent of Sid Fernandez and Mike Lum, two Honolulu-born players who starred in the majors for 15 seasons apiece. El Sid was a two-time all-star pitcher, earned his World Series title with the Mets in 1986, and wore No. 50 for the Mets, Dodgers, Astros, Phillies, and Orioles to honor the 50th state. Lum, who played first base and the outfield for the Braves, Reds and Cubs, won his World Series ring with Cincinnati in 1976 and is known as the only player ever to pinch-hit for Hank Aaron.
There are other great names from Hawaii who starred in the majors for many years, such as Lenn Sakata, Mike Fetters and Glenn Braggs. Then, there's Hawaiian-born Charlie Hough, the great knuckle-baller who pitched for an amazing 25 years in the big leagues. But some would argue that he hardly had a cup of coffee as a Hawaii resident, as he was born at Tripler Hospital and actually grew up mostly in Florida.
So that brings us back to Victorino's place on the list. Is he at the top yet? The only thing stopping me from saying an emphatic yes is longevity. Ten years seems to be a good barometer of greatness over time - Victorino should hit that mark in two seasons. Based on how he's playing right now, along with his ever-youthful exuberance, reaching the decade mark for service seems totally reasonable.
He's already the highest-paid player ever from Hawaii, reportedly more than $5 million a year. He has his own Web site, his own book, his own charity golf tournament, he plays for a team whose continued success puts him in the national spotlight - and most importantly, he plays like he loves the game every single day.
That's what makes me a big Shane Victorino fan. They love him in Philly; they love him on his home island of Maui; and they love him wherever Hawaii fans gather to watch great baseball. The Flyin' Hawaiian is No. 1 in our hearts, and on his way to No. 1 of all time.
Most Recent Comment(s):