The Good Guys, Gals Of Isle Sports

By
.(JavaScript must be enabled to view this email address)
Wednesday - December 15, 2010
|
Share

Del.icio.us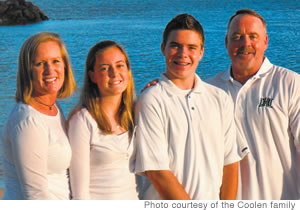 Nanci, Demi, Bo and Bob Coolen
This is my time of year to hand out Christmas cards - and in the spirit of giving, I'm handing out my annual awards to some of the families who made a difference in our local sporting life this past year. I think it's important to remember that it's the wives and children and other family members who are there for all the joys and heartaches of coaching. Here are the Bob Hogue/MidWeek Nice People Awards for 2010:
* Bob and Nanci Coolen, and children Demi and Bo: The UH Wahine softball program made us all stand up and cheer this past spring with their heart-pounding Super Regional victory over powerful Alabama on their way to the College World Series.
* Bryan and Donna Nakasone, and children Heather and Ryan: When the whole state was going softball-crazy, Nakasone's HPU Sea Warriors really gave everyone a reason to celebrate by winning the PacWest, the Regionals and the NCAA DII National Championship.
* Greg and Heather McMackin, and daughter Shannon: Coach Mack turned UH football in the right direction this fall, and we look forward to seeing the whole Warrior family at the Sheraton Hawaii Bowl against Tulsa on Christmas Eve at Aloha Stadium.
* Gib and Lisa Arnold, and children Analise, Ashton, Ally, Addison and Ace: Gib brings his A-game every time he's out with his family, plus he's also got the basketball 'Bows playing at a high grade this year. Looking forward to seeing them in the Diamond Head Classic during Christmas vacation.
* Charlie and Tani Wade, and children Makana and Kainoa: Charlie's enthusiastic style has the volleyball 'Bows playing at a high level. They should be fun to watch this upcoming season.
* Dave and Mary Shoji, and children Cobey, Kawika and Erik: The volleyball family of volleyball families. The Shojis celebrated a national championship this year when Kawika and Erik starred for Stanford's national title team.
* Mike and Cathy Trapasso, and sons Michael and Matthew: Coach Trap led Hawaii baseball back to the NCAA tournament this past spring with a great finish in the WAC. Looks like another great baseball season ahead.
* Dana Takahara-Dias and sons Hunter and Logan: The Wahine basketball coach also is a super mom as she manages an exciting and up-and-coming team, as well as two young boys at home.
Other individuals I also want to say thank you to:
* Kealoha Pilares, my favorite Warrior football player to watch this season.
* Greg Salas, a record-breaking receiver who can play at the next level.
* Brian Barr, yes, even basketball officials need a thank you once in awhile.
* Pat Tanibe, veteran basketball official and assign-or with a heart of gold.
* Jesse Nakanishi, Kamehameha's boys basketball coach has a fun team to watch.
* Mike Taylor, Punahou's girls basketball coach is hoping for fifth state title.
* Dr. Linda Rasmussen of Kailua, super mom, super doc, football fan extraordinaire.
* John Barry of HPU, who was named our PacWest SID of the Year.
And a big mahalo to MidWeek readers who helped my first novel Sands of Lanikai make it to the local bestseller list several times in 2010. I'm proud to say the e-book and audio book are coming out this Christmas on iTunes and at welcometotheislands.com.
Happy Holid
Most Recent Comment(s):