The H in HPU Baseball Is For 'Hot'

By
.(JavaScript must be enabled to view this email address)
Wednesday - March 11, 2009
|
Share

Del.icio.us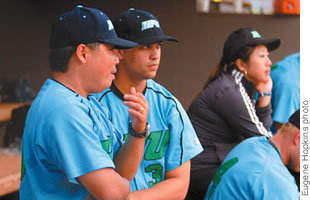 HPU coach Garett Yukumoto
When Garett Yukumoto was growing up in Halawa Valley, he dreamed of one day being a big league star.
"Of course, that's every baseball player's dream: to make it to the major leagues," he says.
"I was a park rat back then. I lived just down the street from Halawa District Park, and I practically grew up there. I was playing baseball or basketball there all the time."
As the years went by, he continued to dream the big dream. He was an all-star outfielder at Aiea High School, then played at Portland State for three years. He came back to the Islands to play his senior baseball season at Hawaii Pacific University, where he played alongside future major league outfielder Ben Agbayani.
"I was in left field, he was in center," Yukumoto recalls. The two remain friends to this day.
Yukumoto himself may still be a long way from a big league ballpark, but his dreams never die.
"I'd love to coach at the major-league level," he says. At 38 years old, and with nearly a decade of head coaching experience at the high school and college levels, it's not out of the realm of possibility. For one thing, Yukumoto works hard at his craft.
"I listen to other coaches; I go to the conventions," he says. "I talk to visiting coaches and learn as much as possible. Every day is a learning experience. I strongly believe in the saying, 'If you're not trying to improve, you're going backwards.'"
Yukumoto is always going forward, and he expects those around him to follow his lead. As the current vice principal and former head baseball coach at Leilehua High School, he takes his job very seriously. He expects his students to fulfill both their academic and athletic roles to the best of their abilities - that's a mantra that led him to be named the OIA West coach of the year. His teams also won two OIA West titles during his five years at the helm.
Four years ago, Yukumoto added a new head coaching job to his impressive resume when he was named head coach at his alma mater, HPU. Now in his fourth season guiding the Sea Warriors, he has them playing extremely well.
This year, his fellow conference coaches named HPU as the pre-season favorite to win the PacWest title. This is the first year that baseball has officially been recognized as a conference sport.
"Playing in a conference is big," he says. "It's great not only for us, but for the entire state. It's a chance to renew old rivalries with UH-Hilo, just like back in the '80s when we were both playing in the NAIA."
Yukumoto's team goal this year is to make the NCAA Division II regional tournament. The PacWest winner doesn't have an automatic bid in baseball, so he knows his team will have to achieve impressive numbers to be considered.
"It's a hard number to gauge, because there's no magic number," he says. "But I would say that a good goal is to try to get to 40 (wins) and 12 (losses). That's an achievable goal."
With the way the SeaWarriors have been playing in the early part of the 2009 season, that number is a very strong possibility. HPU jumped out of the gates this season by winning its first nine games, and 12 of its first 14. They also won three of four in the first-ever PacWest conference series against rival UH-Hilo.
"I mentioned to our players that being successful at the beginning is great. But to be successful at the end is what means most. Consistency throughout the entire season is the key, and that's what it will take to make it to regionals," he says.
Yukumoto has blended local Hawaii talent with players from the Mainland. He even has a player from the Netherlands on the team.
"We're representative of the diverse, multicultural atmosphere at HPU, and they've bonded with each other very well," he says.
This week, you can catch the HPU baseball team in action on OC-16 Thursday and Friday late afternoon and evening, March 12-13 (doubleheaders start at 4 p.m.), against PacWest contender Grand Canyon University "live" from Hans L'Orange Park in Waipahu.
That's where the dream continues for Garett Yukumoto.
Most Recent Comment(s):