The Hawaii-Alabama Connection

By
.(JavaScript must be enabled to view this email address)
Wednesday - August 30, 2006
|
Share

Del.icio.us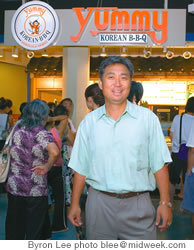 Peter Kim at Yummy Korean B-B-Q in
Makai Market at Ala Moana
When Honolulu restaurateur Peter Kim travels to Tuscaloosa, Ala., for this Saturday's Hawaii-Alabama football season opener, he won't be wearing the green and white of his home state. Nor will he be wearing the crimson and white of his University of Alabama alma mater.
"I'm wearing blue that day," says Kim, laughing.
Truth be told, Kim - whose family owns Hawaii's Yummy Barbecue and other popular local restaurants - is a dedicated fan of both schools, but you can't blame him if his heart is in Alabama. A graduate of Kaiser High School in the late '70s, Kim transferred from UH and joined Bear Bryant's Crimson Tide in time to be on the Bear's last national championship squad at 'Bama (in 1979).
"He was a great man," Kim says. "I played in the last game he ever coached (the Liberty Bowl in December 1982). The tradition of Alabama football is so strong. We had practice field visits from (then former) President Ford and phone calls from (then current) President Reagan."
Kim went on to become an all-star kicker at Alabama and then played briefly in the NFL with the Tampa Bay Buccaneers.
More than two decades later, Kim is an extremely successful Honolulu businessman. He was recently listed as one of the country's top young millionaires, and says he "runs 25 restaurants with our products in 46 stores."
He's also very much in touch with his 'Bama roots.
"I go back every year," he says. "They really take care of their former players. I run into somebody all the time. Last year, it was Bart Starr."
But this year's trip will be extra special.
"I think I've been planning this trip for about a year," he says. "It started with about eight of my friends going until it grew to 27 people in all."
And it's become more than just a football game in the days leading up to the gridiron clash.
"We've created our own version of the Ryder Cup," says Kim, an avid golfer who plays to an 8-handicap. "We're matching up our Hawaii guys against Alabama golfers in a two-day tournament. (Former UH athletic director) Hugh Yoshida is our team captain."
Kim won't predict a winner for the golf event, but does promise a whirlwind tour of the university community for his large Hawaii entourage in the five days they'll be spending in Tuscaloosa.
"We'll be attending the dedication to their new state of the art athletic facility on Thursday," he says. "(Alabama officials) believe they now have the best football facility in the nation. I saw part of it last year when I was there and it was amazing. I remember being in the locker room and it didn't even have that football kind of smell. They had air conditioning and an exhaust fan for every locker."
Kim also likes to brag about Alabama's famous Southern hospitality.
"There's a great deal of similarity between the hospitality of the people in Alabama and the aloha spirit of Hawaii," Kim says. "When 'Bama came here twice (winning once and losing once in the past few seasons), all of my Hawaii friends came up and told me 'these are such great people. They're all so nice.' I agree. 'Bama people are truly passionate about their football, but they are really gentle."
Kim says he expects his friends in Alabama to throw out the red carpet for Hawaii fans.
His 'Bama friends are helping him host a big tailgate party on game day, featuring "a Southern barbecue this time," he says, not Yummy Barbecue.
"The Alabama people have a real affection for Hawaii and are really looking forward to the game," he says. "It reminds me of the friendly rivalry we used to have between Alabama and Penn State because of the friendship between Coach Bryant and Joe Paterno. I can tell you from personal experience that all rivalries aren't like that."
Kim says he's expecting the Saturday night game (noon Hawaii time) in the brand new 92,000-seat stadium to be just as exciting as the build-up.
"June Jones knows he has a very good team; he's very high on this team," the former kicker says. "(Meanwhile), Alabama has a lot of new players and there's a great deal of pressure on them because of the new season and the new stadium. It should be a great game."
And Peter Kim, the former Alabama-kicker-turned-Hawaii-millionaire-restaurateur, says he'll be "loving every minute of it" - whether he truly wears blue or not.
Most Recent Comment(s):