The Hula Bowl Comes Home Again

By
.(JavaScript must be enabled to view this email address)
Wednesday - January 18, 2006
|
Share

Del.icio.us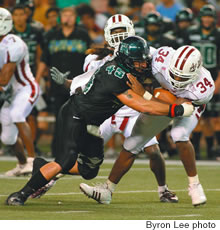 UH's Tanuvasa Moe will be among eight
local players in Saturday's Hula Bowl
This has been a hectic month for Todd Bell. He was in Dallas last week for the American Football Coaches Association annual convention. But his mind, and probably his heart, were in Honolulu.
Bell is the coordinator of the selection process for the Cornerstone Bankcard Hula Bowl. And when I spoke with him from the hotel lobby at the AFCA convention, he was still scurrying around making sure that the rosters were set for this Saturday's game at Aloha Stadium.
"You know how it is, there's always last-minute changes," he says. "We're still hoping to get a couple of players from USC and Texas."
That would be a great boost for the game's self-esteem. The Hula Bowl is the longest-running sports event in Hawaii, but it's fallen on hard times lately. After eight years on Maui, the college football all-star classic comes home for its 60th anniversary rendition, Saturday afternoon at Aloha Stadium.
"One of our goals of this new ownership group is to restore the game to at or near the level of what it once was," Bell says.
The Hula Bowl was the brainchild of legendary Honolulu sports promoter Mackay Yanagisawa. When it debuted at old Honolulu Stadium in January 1946 just months after the end of World War II, it immediately captured the imagination of local sports fans. Over the years, some of the greatest names in football history played in the game - names such as Y.A Tittle, O.J. Simpson, Mike Ditka, Paul Hornung, Jim Plunkett, Joe Montana, Tony Dorsett, Johnny Rogers and Troy Aikman, among many others.
But attendance and the appearance of marquee players were already way down when the Hula Bowl moved from Honolulu to Maui in 1998. It played well on the Valley Isle for a few years, but enthusiasm seemed to wane in recent years.
"As great as Maui was, and the people there were wonderful, it had probably run its course," Bell says. "We needed a chance for a bigger crowd. And I think that Honolulu has more appeal for a 22-year-old kid than Maui, as great as Maui is. The best salesmen for this game are the kids themselves. If they go home and tell their friends and teammates about the great time they had in Waikiki, about playing in the same facility as the NFL Pro Bowl, then our future is strong."
But Bell is also realistic. He's seen the stories about dwindling attendance at University of Hawaii games, so he knows that the move back to Oahu won't be a quick fix.
"The stadium will be set up for 20,000 to 25,000," he says. "But the number is not as important as the enthusiasm shown by the people who are there. We're telling people to bear with us this year. With the new ownership group and the total commitment of the AFCA, we feel really good about the future."
This year's game features several players from the University of Hawaii and several others with Hawaii ties. From UH, the list includes linebacker Tanuvasa Moe, safety Lono Manners, defensive lineman Kila Kamakawiwo'ole and offensive lineman Brandon Eaton. From Kahuku, there's Texas Tech tight end Bristol Olomua. From St. Louis, there's University of Washington linebacker Joe Lobendahn and Colorado defensive lineman Vaka Manupana. All seven of those players will play for the West all-stars. Playing for the East will be Wisconsin center Donovan Raiola of Kamehameha.
All of these local players are excited to be able to play one more time in front of their friends and families.
They'll also be able to make an impact in front of NFL scouts.
"We've redone our practice schedule for the week so that we can help out the scouts," Bell says. "There are a number of opportunities for one-on-one scouting. We're trying our best to help these players showcase their talents."
Ultimately, that's what the Hula Bowl is all about.
"An all-star game should be entertaining for the fans and fun for the players," he says.
And if it can help some of these players get to the next level, then it's all been a resounding success.
Kickoff on Saturday is set for 3 p.m. The Hula Bowl will also be broadcast live on ESPN2.
Most Recent Comment(s):