The Little Hoops Team That Could

By
.(JavaScript must be enabled to view this email address)
Wednesday - January 28, 2009
|
Share

Del.icio.us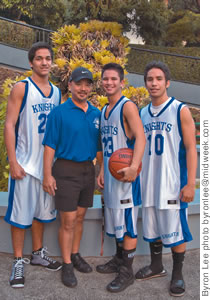 (from left) Aaron Bechard, coach Nelson Katada, Seth Katada and Jake Chan
One of the top feel-good stories of the new year is what's happening at a tiny school near downtown Honolulu.
It's the story of Hawaiian Mission Academy, a parochial school of approximately 120 high school students now playing in their first-ever season in the ILH. Despite being the new kids on the block, the Knights' varsity boys basketball team is playing immediately like championship contenders.
After the first couple of weeks of the ILH Division II season, the Knights had a perfect 6-and-0 record and were sitting in first place in the division.
"It caught us by a surprise, but it's a nice surprise," says HMA head coach Nelson Katada. "It just means that the boys have been coming through after a lot of hard work and that they're showing some good teamwork."
It hasn't come without challenges. Hawaiian Mission Academy is located on the mauka side of the H-1 freeway along Pensacola Avenue, and is affiliated with the Seventh-day Adventist Church, meaning their student-athletes are unable to play sports from sundown Friday until sundown Saturday in observance of the Sabbath.
Because of that restriction and its effect on scheduling possibilities, the league had reservations about inviting them in.
"We tried to get in for several years," says Katada. "I guess it just had to be the right time, and this was it. The league finally accommodated us on Friday-sundown-to-Saturday-sundown (non-) scheduling, and it's working well for everyone. In fact, they're now using our gym. We've got 49 (ILH) games scheduled in our gym this season."
Assistant athletic director Mark Kinimaka, who also doubles as the school's varsity girls basketball coach, says HMA student-athletes have always had a passion for basketball. "They love to play," he says. "If there's any free time during the day, our parking lot court is going."
Katada says that passion has involved everyone in the school community. "The support is tremendous. You can't find a better or more supportive crowd," he says. "I think we may have the biggest crowds at every game, regardless of whether we're playing at home or away."
He says the school's parents are a primary reason for the Knights' success.
"It takes a lot of people to run a program," Katada says. "I could-n't do it without the help of our parents."
Katada, whose regular full-time job is as a mail carrier for the U.S. Postal Service, is a graduate of HMA. "I graduated in 1980," he says. "Back then, all we had was an intramural team. The big game of the year was when we played our alumni."
Several years ago, Katada started coaching at the school when his daughter played there. Now he coaches his son, Seth, a senior guard.
Seth Katada and fellow guard Jake Chan, along with power forward Aaron Bechard, have been the team leaders on a senior-dominated squad. In previous years, the players honed their skills by playing exhibition games against local high schools and club teams. This season they opened up against outstanding Canadian teams during December.
"Our tallest guy is maybe 6-2; they had several players 6-5 and 6-6. They were really tall," Katada says. "But we went 1 and 2 against them, and I think that really helped us in our preparation."
Now it's the other ILH Division II teams who are chasing HMA.
"We know there's a long season left, but we're doing good for now," Kinimaka says.
Coach Katada says he's hoping to enjoy every moment of this inaugural year. "This is our first time, so we're hoping to build on this. The excitement has been great for our whole school. There's a long way to go - we just hope to keep it going."
Most Recent Comment(s):