The Living Definition Of A True Fan

By
.(JavaScript must be enabled to view this email address)
Wednesday - November 16, 2011
|
Share

Del.icio.us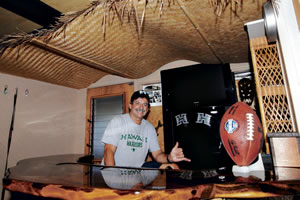 Bob Souza's favorite team is no mystery. Nathalie Walker photo

.(JavaScript must be enabled to view this email address)
Bob Souza is the consummate University of Hawaii football fan. For more than 40 years, he's been going to virtually every home game and many on the road, too.
"I've been a UH fan since 1970 when they played at Honolulu Stadium. I've been a season ticket holder since 1975," the Kailua resident says.
When I asked him if he recalled the last time he wasn't at Aloha Stadium for a UH home football contest, Souza had to scratch his head. "I don't remember the last time missing a game," he says, pondering the question, and then he recalls it. "I guess it would have to be the day I got married back in 1975. I remember that UH played Pacific that day!"
Souza and his wife, Diana they've been married ever since that footballSaturday 36 years ago have made UH football a big part of their lives. They go to every home game, always holding a great tailgate beforehand (I know: I've been to several of their tailgates, including the last UH home game against Utah State), they often hold TV-viewing parties at their home in Kailua, and they even make it over to the Mainland for a few road games. This year, they saw the Warriors play on the road at UNLV and at Idaho.
Over the many seasons, Souza has lived through the UH football low points.
"The VonAppen years." he says. "I was there for every game when they went 0 and 12."
He's also thrilled to remember the high points.
"The Colt Brennan years and when they went undefeated that one season that was awesome!"
This year, he's felt a bunch of emotions, and not all of them have been positive during this rollercoaster ride of a season.
"It's been disappointing and frustrating," he says. "When they play (poorly), I'm frustrated for a few days, but then I move on."
This season, when the Warriors have shown both great promise and have faltered badly, has been especially frustrating for Souza and many other longtime fans. He listens to sportstalk radio and studies the local sports pages, so he knows the score.
"We've had a lot of injuries this year, and we've got an inexperienced offensive line," he says.
Unlike some others, he's cautious when talking about the coaching situation.
"I was more disappointed when June Jones left. That's what got me upset. Honestly, I haven't liked Coach McMackin's coaching style since day one. I don't really know whether his contract will be extended. They may buy him out. I don't know."
But he's a fan and is always looking for the bright side the proverbial rainbow. "He could save his job by winning out this year," he says. "There's time to turn it around."
No matter what has happened to this point both good and bad he knows that the Warriors still have a shot at the Sheraton Hawaii Bowl. And he knows he'll be ready for that game, too.
"I'm there," he says. "I'm always there for them."
That's what makes Bob Souza, and thousands of loyal UH football backers just like him, a super fan. This is their time, during the final stretch run of the 2011 season. They'll be there for their Warriors no matter what happens and remain hopeful that their favorite home team is ready to take it all the way.
Most Recent Comment(s):