The Lucky Charm Of UH Baseball

By
.(JavaScript must be enabled to view this email address)
Wednesday - May 26, 2005
|
Share

Del.icio.us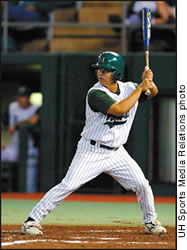 The diminutive Isaac Omura has
been UH's big man this season
When Isaac Omura was a young boy playing baseball in the Kailua American Little League, he remembers his mother, Beverly, giving him a lucky charm.
"I used to carry a penny in my shoe for good luck," Omura recalls. "My mom started doing it for me when I was small."
Nowadays, Omura doesn't really need a penny, or any kind of good luck charm. No medallion, no rabbit's foot. Nowadays, as the University of Hawaii's most prolific offensive weapon, Omura is doing it on his own.
The left-handed hitting second baseman is finishing his junior season this week with the team's statistical triple crown. He leads the Rainbows in hitting, home runs and runs batted in.
And in Omura's case, that offensive crown has many more jewels, too. He also leads the team in doubles, walks, slugging percentage and onbase percentage.
His hitting swing is so smooth, it's like glazing your hand across the top of a haupia cake. As the ballplayers say, "Sweet!"
Not bad for the proverbial "little guy," who is listed at 5- feet-10-inches tall and 175 pounds, but frankly, appears more diminutive. Whatever his actual size, his stats are gigantic, and the little slugger justly deserves mention as an all- American candidate.
"I think I just understand what kind of a hitter I am, and I understand the pitchers more," the Kailua native says. "(Assistant coach) Keith Komeiji has worked with me a lot, both during the season and in the off-season. I owe a lot to him. I've refined my swing and I've learned how to hit to the opposite field."
Omura was a three-time allstar at Mid-Pacific Institute, where he played for legendary coach Dunn Muramaru. He was recruited by several colleges out of high school, but made an almost immediate impact for Mike Trapasso's Rainbows.
As a freshman two seasons ago, Omura had the team's longest hitting streak — 12 games. He was named to the Easter Tournament all-tournament team and the Louisville Slugger Freshman all- American team.
As a sophomore last year, he recovered from an early slump to finish the season hitting .313 and was named second-team all-WAC.
This year, he's been flirting with the magical .400 mark all season. And despite his lack of physical stature, he's also been hitting for power.
"I keep mental notes on the pitchers, remembering their pitch pattern, and things like that," he says. "Putting it together mentally, and executing on every at-bat is the key."
He does all of this, plus field his position well, with a quiet demeanor. You don't expect histrionics from Omura. You won't get any, either. Just solid results.
"My parents have always stressed humbleness," he says.
Omura has the same quiet, but determined demeanor in the classroom, where he's an honor roll student. He's planning to go to dental school after graduation and become a dentist, like his father, C.J. You won't have to pull any teeth to recognize that Omura understands that there is definitely life after baseball.
"My father is my role model. He's got a practice in Honolulu," the younger Omura says. "It's important to me (to have a career plan). I'm not the type of guy who's going to have a promising pro career. If I had a chance to play professionally, I'd look at it realistically. I know I'm not a fivetool player who gets the guaranteed contract. That's why it's so important getting the work done. I know I need to get it done in the classroom."
So now it becomes clear just why his mother once placed a penny in his shoe for good luck. That penny has paid great dividends.
It has helped young Isaac Omura become not only a student of the game, but also a student of life. That's some lucky charm.
Most Recent Comment(s):
Commenting is not available in this weblog entry.