The Man Behind The Menehune

By
.(JavaScript must be enabled to view this email address)
Wednesday - January 27, 2010
|
Share

Del.icio.us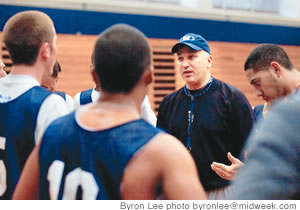 Moanalua High coach Greg Tacon at a Menehune practice last week
Greg Tacon has the best of both worlds.
Throughout most of the day he's in medical device sales - working hand-in-hand with doctors, surgeons and hospitals so that their patients receive the most advanced items in total joint repair and sports medicine. By late afternoon or evening, he turns into a varsity basketball coach at Moanalua High School, one of the top boys basketball teams in the state.
"It's my 11th year of medical device sales and 23rd year of coaching," he says.
It's been quite a ride in both.
"I've seen a lot of knee replacements and hip replacements," he adds.
Tacon knows about replacing adversity with opportunity in the coaching ranks as well. He and his family moved to Hawaii a decade ago from Washington when a medical sales territory became available, and he took over the powerful Punahou basketball program after more than a dozen years of coaching on the Mainland. His Buffanblu teams featured some of the top athletes in the state, but despite his hard work and coaching prowess, his teams there were never quite able to reach high enough into the state tournament and he was ultimately let go.
"Nobody wants to be rejected, but you get over it," he says. "That's part of the past."
Tacon, 47, refused to walk away from the game he loved and quickly landed the head coaching job at Moanalua.
From year one he had the Menehune playing at the highest level.
In his first season there, his team overcame a 10-point deficit in the final 38 seconds to help qualify for the state tournament. Then, in a case of serendipity, his heavily underdog team almost knocked off then No. 1-ranked Punahou.
"We were hanging with them, and we almost had them. It proved to our kids that if you create a little lightning in a bottle, you can do it," he recalls.
A year later, his Moanalua team scored one of the biggest upsets in state tournament history when they defeated powerful Iolani. Unfortunately, it also was discovered a day later that an administrative error at the school meant that one of the Menehune players was ineligible. The school informed the HHSAA of the mistake in the grade-check process, and Moanalua was forced to forfeit the third place game after their semi-final loss the night before.
"That was a big disappointment," he says. "But mistakes were made and we all learned from it. Four of the players on this year's team were in the classroom that day ready to go to the game when we were all told that we can't go. More than anything else we want to make sure that nothing like that ever happens again."
The way Tacon and other Moanalua athletic administrators handled themselves during that difficult time was considered admirable in the local basketball community. The fault was not theirs, but they stepped up and accepted the penalty and embarrassment without complaint.
Meanwhile, Moanalua's basketball team continued to play well on the court. This year, the Menehune are one of the top teams in the OIA again, earning as high as a No. 4 ranking in the state. Along with Kahuku, Kalaheo, Mililani and Campbell, they have one of the best chances to advance through the playoffs. The OIA tournament begins the first week of February, and Moanalua should be considered one of the favorites.
"I think we're right where we want to be," Tacon says. "We brought a lot of kids back from last year, and we're playing well. Everybody is more-balanced this year, so it's an interesting race."
Tacon feels that the ILH - with Punahou, Iolani and Kamehameha - probably has the top talent in the state again this year. But he also knows that if you create "a little lightning in a bottle" anything can happen come tournament time.
He's proud of how Moanalua fans have rallied around his team.
"We're getting a lot of support from our community and the student body," he says. "That gives the kids a lot of pride. When you're winning, everything is cool. We just hope to keep it going."
Most Recent Comment(s):