The Man Who Made Tickets Easier

By
.(JavaScript must be enabled to view this email address)
Wednesday - December 06, 2006
|
Share

Del.icio.us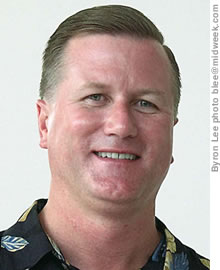 John McNamara
John McNamara remembers the feeling of pride he had in the hours before the recent Hawaii-Purdue football game.
"I usually get to (Aloha Stadium) about four hours before the game; there's so much to do," says the university's associate athletic director and the man responsible for the athletic depart-ment's marketing efforts.
McNamara has had to take on the storm of criticism directed at the university when attendance faltered last year and at the beginning of this year. It appears he's helped weather that storm. Of course, it's helped that the Warriors continued to win and move up in the national rankings. McNamara could see the excitement building in those hours before the game against the Boilermakers.
"It was absolutely phenomenal," he says. "To see all the fans enjoying their tailgating, and then to see the stands fill up so quickly, there's no better feeling."
The crowd of nearly 45,000 for that game marked a stark contrast to crowds in the high 20s in the not-so-recent past. The low crowds had set off a firestorm of opinion pieces, nasty letters to the editor and blistering comments on sports talk radio.
Now it appears the fans are back. The question is whether they'll keep coming back.
"Success breeds interest," McNamara says. "Now, it's our job to sustain that. I've been in this business 24 years. I fully understand that the decisions made by the fans as to whether they're going to attend are subjective. And that means we're subject to criticism. We have to listen."
McNamara has heard all the complaints: parking hassles, stadium rules, high ticket prices. But he says it's been a team effort to try to improve things.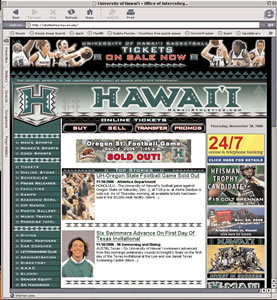 Fans can purchase tickets on the UH Athletics website
"I used to spend 40 percent of my time on people having trouble with tickets," he says. "We're made changes in the ticket system to make it easier."
Now Hawaii fans can go online to print their own tickets.
"They used to have to come to will call, and those lines were getting out of hand," he says. McNamara says the growing practice of season-ticket holders going online into a password-protected "ticket market place" has also made things better.
"Fans can now transfer their tickets through e-mail to a friend, and it's so much easier," he says.
McNamara also oversaw the creation of the athletic depart-ment's well-organized website at hawaiiathletics.com, and helped develop some of the promotional activities that fans are starting to enjoy each week at the stadium.
"The fan experience has gotten so much better," he says.
McNamara, 44, came to the University of Hawaii in 2004 after spending virtually of his career in sports administration. Born and raised in Ohio, he began his career in sports information at the University of Toledo, and then moved on to conference work with the Mid-America Conference, Western Athletic Conference and then Conference USA.
"I spent 12 years in conference work, and so I got to see the operations at 41 different institutions," he says. "I learned you can't do the same thing everywhere, but you watch and listen and make improvements."
Thus, when McNamara moved to Hawaii two years ago (from the Conference USA offices in Chicago), he didn't make the mistake some others from the Mainland have made before.
"I came in with big ears and a small mouth," he says.
So, after watching the crescendo of attendance this season, McNamara is looking forward to partnering up with the Sheraton Hawaii Bowl for the Warriors'next game on Dec. 24, Christmas Eve.
"I'm on the executive committee (for the bowl). Our resources are their resources," he says.
It's time for the Ohio native to enjoy fruits of his labor in paradise.
"I'd rather be cleaning sand out of my toes than snow out of my boots," he says, laughing.
But mostly, John McNamara is happy to see the fans back filling up Aloha Stadium.
"Our goal is to build on that," he says.
Most Recent Comment(s):