The Masutani Softball Sisterhood

By
.(JavaScript must be enabled to view this email address)
Wednesday - January 31, 2007
|
Share

Del.icio.us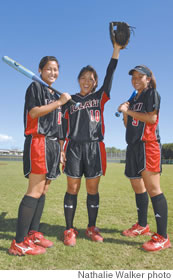 Masutani sisters (from left) Kryn,
Kaz and Kai
The letter "K" is a special one in the Masutani household of Hawaii Kai.
A tradition of naming each child beginning with the letter "K" started when the Masutani's named their first daughter Kaz.
"I was named after a weightlifter, Bill Kazmaier (the former world champion and World's Strongest Man)," Kaz says.
Kai, Kryn, Kain and Klein followed along. Kaz is a senior in high school this year, Kai is a junior, Kryn is a freshman, Kain is an eighth-grader, and Klein is in fifth grade.
But what makes the Masutani family even more special is the fact that the oldest three daughters all start for the powerful Iolani girls softball team - at the same time. Kaz is the team's shortstop, Kai is the Raiders' catcher, and Kryn plays centerfield.
"It was kind of scary being a freshman, but it's nice to know my sisters are all there for me," Kryn says. "It's easier for me to be not scared of messing up."
Messing up is hardly a problem. Not only is Kryn a starter as a ninth-grader, each of her two older sisters also started every game at Iolani since their freshman years. All three are outstanding fielders and excellent hitters, each hitting over .300 this season.
"This is the first time we've all played together," Kaz says. "It's
fun and a lot easier for our mom and dad to watch all of us at once."
But as close as they are, each of the Masutani sisters has her own distinct personality and interests. Kaz plays guard for the Raiders outstanding girls basketball team and was selected to Iolani's homecoming court this year. Kai is an upand-coming golfer, and Kryn likes basketball, hanging out with her friends and going to the movies. "And I like to eat, a lot," she says,
giggling.
"Kaz is the most serious one, especially on game days," Kai says. "Kryn is never serious. She's always fooling around. I'm the most calm of us three."
All three are very good students. And on the softball diamond, they all push each other to get better.
"We compete with each other a lot," Kai says. "If Kryn hits better than me, she comes home and teases me about it. It's friendly competition. It's nice and fun to have them out there with me."
This week, the Raiders are hoping to take their sister act all the way to the state title. After finishing in first place in the ILH during the regular season (tied with St. Francis), the Raiders will be playing in the HHSAA Division I state championship tournament this week, Wednesday through Saturday (Jan. 31-Feb. 3) at the UH Wahine Softball Stadium. (The Division II state tournament is set for Central Oahu Regional Park the same days.)
"(Our team has) been together for awhile," Kaz says, but the shortstop stops short of predicting a state title. "I don't know about that. The important thing is that we're tightly bonded. We all get along. I think that helps with our performance."
Kind of like sisters.
It's a tradition in the Masutani family where supporting each other and winning softball games are as special as the letter "K."
Most Recent Comment(s):