The Most Sporty Time Of The Year

By
.(JavaScript must be enabled to view this email address)
Wednesday - December 22, 2010
|
Share

Del.icio.us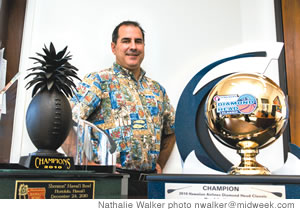 Dave Matlin with the two trophies he'll award this week
Please pardon Dave Matlin if he hasn't had time to do all of his Christmas shopping.
"That's always a little problematic," the executive director of the Sheraton Hawaii Bowl and the Hawaiian Airlines Diamond Head Classic says with a laugh. "By the Christmas night party (last year), I was like a zombie. I had to wait until the 26th to chill out."
But despite his dawn-to-midnight crazy schedule these days, Dave will certainly be playing Santa Claus for thousands of local sports fans this week. His bagful of goodies includes no less than 10 national-caliber basketball games and one giant football bowl.
"It's very busy, but very exciting," he says.
Perhaps the cherry-plum game of the bunch is the annual Sheraton Hawaii Bowl between 24th-ranked Hawaii and powerful Tulsa at 3 p.m. Christmas Eve at Aloha Stadium.
"It matches up the ninth-ranked offense in the country, Hawaii, against the 10th-ranked offense in the country, Tulsa," Matlin says. "The total combined score could easily go over 100 points - Tulsa scored 56 in its last win, and Hawaii had 59 in its last victory!"
Matlin notes that the Sheraton Hawaii Bowl has been consistently ranked in the top 10 of this year's best bowl matchups. "Better than at least one of the BCS bowls," he says.
That shouldn't come as a surprise, considering that Hawaii has 10 wins on the season and Tulsa has nine. That combined victory total is one of the best this bowl game has ever produced.
Matlin reports that ticket sales for the Christmas Eve classic are in the mid-30,000s. "We're hoping for beautiful weather and a good walk-up crowd - 40,000 is definitely within reach," he says.
Local sports fans will have plenty of other holiday choices from Matlin and his hard-working staff this week. The eight-team Hawaiian Airlines Diamond Head Classic - with Baylor, Butler, Florida State, Hawaii, Mississippi State, San Diego, Utah and Washington State - runs Dec. 22, 23 and Christmas Day. The classic features four teams that went to college basketball's post-season tournaments last year, including the NCAA runner-up Butler Bulldogs and elite eight finalist Baylor Bears. Hawaii takes on powerful Florida State in the nightcap Wednesday, Dec. 22, with Butler against Utah immediately preceding it.
"This is a big opportunity for local fans to see high-quality teams," he says.
Four of the squads - Mississippi State, Florida State, Baylor and Butler - won more than 20 games last year, and the Bulldogs were everyone's Cinderella darling after barely missing a national title in a memorable finish against Duke last year.
Matlin is hoping for more of that kind of magic throughout this week of basketball and football treats in the Islands. "It's a great showcase for Hawaii," he says. "We're broadcast (on ESPN stations) all over the nation and into over 150 countries around the world."
So pull out your Christmas stocking and fill it with games aplenty. For more specific information, check out details on the Web at http://www.sheratonhawaiibowl.co m or hawaiianairlinesdiamondheadclassic.com or call the bowl office at 523-3688.
But don't ask Dave about his shopping - he's too busy giving out great holiday game gifts.
Merry Christmas everyone!
Most Recent Comment(s):