The Mystery That Is Julian Sensley

By
.(JavaScript must be enabled to view this email address)
Wednesday - March 01, 2006
|
Share

Del.icio.us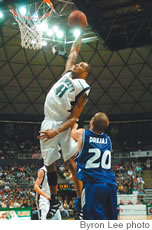 Will the real Julian Sensley
please stand up
The last time the basketball 'Bows played at the Stan Sheriff Center, I remember practically sitting on my hands throughout most of the first half. All around me, fans were puzzled by the team's inconsistent performance.
But then, something magical happened in the second half of that so-called Bracketology game. That something was Julian Sensley.
And the fans roared their approval.
Back-to-back three pointers. A rim-rattling dunk. Driving to the hoop through traffic. Sensley scored 18 straight points in just a matter of minutes - 18 straight! Amazing. And his incredible effort led the 'Bows back from a double-digit deficit to an impressive victory.
It was a performance that the likes of Kobe, LeBron or Michael would be proud of.
But was it enough?
Listening to the post-game radio show on the way home, I had to wonder. Caller after caller let host Jeff Portnoy know how frustrated they were with Sensley. How can a guy be so good one moment and so ineffective the next? At 6-feet-9-inches tall, why doesn't he take his defender inside? Why does he shoot so many threes? Why does-n't he take over the game all the time?
Why? Why? Why?
To his credit, Portnoy, the master of basketball opinion-making, said he had no answers. He admitted that everyone involved in Hawaii basketball - from announcers to coaches to players and fans - was perplexed. In a nutshell, this is what I heard: No one no can predict how Sensley is going to play any more than we can predict the next hurricane.
Maybe that's the best way to describe Sensley's play. Like a hurricane, he can be devastating, destroying everything in his path. Or he can simply be a menacing presence on the periphery that harmlessly blows away.
There's statistical evidence to back that up. One game Sensley scores 32 and looks like a surefire first-round NBA draft pick. But then he goes on the road and scores zero.
How can that happen, you ask? How can a player with that much talent come up with nothing?
Even Coach Riley Wallace scratches his head. The coach calls Sensley "a floater." That's basketball terminology for a player who has no set position, who floats both inside and outside, and hopes to find his moment.
Floaters aren't post-up guys, though that hasn't stopped many fans from demanding that Sensley take his defender inside. Floaters aren't slashers, either, but fans still want Sensley to drive to the basket more. And floaters aren't dominators, despite the wish that Sensley simply take over the game anytime he wants to.
In my humble opinion, Sensley is the victim of high expectations. Yes, he's an outstanding talent. And maybe he does have the potential to be an All-American every single game. But that's not up to us.
That's up to Sensley. Only he can make it happen. All the talk in the stands or on the radio or all the comments on Internet message boards aren't going to change a thing. It's all up to him.
This week, we all get to see him play one last time at the Stan Sheriff. New Mexico State is here on Thursday (March 2) and powerful Louisiana Tech is in town for the traditional Senior Aloha game on Saturday (March 4).
It's that one last time to stand and cheer for the kid from Kalaheo who scored more than 1,000 points in a brilliant Hawaii career. I know I'll be standing.
Win or lose, great potential or not, count me among those who appreciate what Julian Sensley does, not what he could have done.
Most Recent Comment(s):