The Nice People Of Hawaii Sports

By
.(JavaScript must be enabled to view this email address)
Wednesday - December 26, 2007
|
Share

Del.icio.us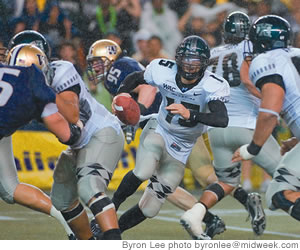 Colt Brennan tops the list of nice folks in Hawaii sports
Merry Christmas everyone! In the spirit of the holiday season, it's time for a little gift-giving. It's time for the annual Bob Hogue/MidWeek Nice People Awards, a chance for me to say "thank you" to the great people who made my sports world-and perhaps yours, too!-so much better in 2007.
The drum roll please: Colt Brennan. Hawaii's record-setting quarterback is probably at the top of everyone's Christmas list this year, but how can we say "Mahalo" enough times to Hawaii's Comeback Kid? We can't! But we'll definitely be rooting for Colt New Year's Day.
June Jones. Hawaii's head football coach gave us nothing but victories this year, turning the 12 Days of Christmas into 12 straight wins. How's that for a perfect wrap?
Dr. Bruce Atkinson. The good doctor arrived on campus of the University of Hawaii at Hilo and quickly put a wrap on a perfect 14-and-0 PacWest women's volleyball season.
Glennie Adams. The Chaminade women's volleyball coach has given back so much to all the student-athletes who have played for her in two decades of coaching for the Silverswords and previously at former national powerhouse University Lab School.
Kanani Herring. The Kamehameha senior volleyball star won her third straight Player of the Year award and gave back to the local volleyball community by announcing that she'll be playing for Dave Shoji's UH Wahine.
Nolan Tokuda. In the most miraculous playoff run in local high school football history, the Leilehua Mules head coach
gave local football fans a wild thrill by taking his team from mediocrity to greatness in six unbelievable weeks.
Kama Bailey. As if his record-breaking season as a Damien runningback wasn't enough, the senior Monarch made it twice as nice by scoring two long touch-downs in the HUB Goodwill All-Star Football Classic, both on kickoff returns.
Jamie Smith. When I was privileged to coach her back in junior high school, I just knew she was going to be a great high school basketball star. At Iolani, she's not only lived up to expectations on the court, but she's also become a star in the classroom.
Stevie Austin. Moanalua's point guard isn't the biggest kid on the basketball court, but he
gives local hoop fans nothing but excitement with the jet-quick way he plays. No wonder basketball fans and old-time TV fans call him The Six Million Dollar Kid.
Paul Peterson. You want another outstanding local basketball player with a TV name (The Donna Reed Show, for all you '50s trivia buffs)? How about the BYU-Hawaii point guard who is tearing up the nets for over 20 points a game!
Lucas Alves. Peterson's team-mate with the Seasiders is a 6-foot 9-inch Brazilian who can leap out of the gym and who is regularly scoring at the unbelievable 30-points-per-game plateau!
Duane Kurisu. As if bringing back Hawaii Winter Baseball to the islands wasn't good enough,
he and his HWB staff turned the rained-out championship game into a party by giving away a virtual truckload of prizes, food, and other great goodies.
Russell Yamanoha. My radio partner in the morning on KUMU AM 1500 "The Team" is a former television sportscaster turned real estate agent, and just a great guy to talk sports with
every Tuesday and Thursday morning.
John Aeto. Our radio boss, and the man who has given back to the sports-crazed local broadcast market by starting up a second all-sports radio station with Sporting News Radio, Leahey and Leahey, Jeff Portnoy, Bob and Russ, Dan Patrick, and John Noland.
Jenn Clifford. My enthusiastic co-host on our new PacWest Magazine television show that will be airing on OC-16 starting next month, thanks to the hard work of editor Jay Hanamura and videographer Barry Markowitz and information specialist Wayne Coito.
Finally, THE NICEST PERSON OF THE YEAR is Terri Hefner, the senior editor at MidWeek, who not only does the copy editing that makes our columns look great each week, but arranges for the photos and is always on top of things. I've worked with her for nearly two decades at MidWeek, and I couldn't have a nicer person to work with. She truly makes every day a gift in every way!
Thanks to all of you, 2007 has been one of the greatest local sports years I can recall. But thanks most of all for being just plain Nice People!
Most Recent Comment(s):