The Open's Beauty And The Beast

By
.(JavaScript must be enabled to view this email address)
Wednesday - January 11, 2006
|
Share

Del.icio.us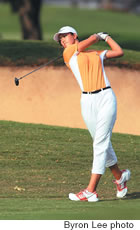 Michelle Wie knows the
Waialae course like the
back of her hand
It might be unfair to call this column "The Beauty and the Beast," but some in golf's literary world might see it that way. This week, the SONY Open in Hawaii features some of the biggest names in golf, but don't be surprised if much of the attention is focused on just two - Michelle Wie and defending champion Vijay Singh.
Local golf fans are hoping that the third time is the charm for Wie in this tournament. No doubt, the dazzling Punahou junior is once again the biggest crowd draw at this week's PGA stop at the Waialae Country Club (Jan. 12-15).
The 16-year-old sensation turned heads here two years ago when she put together the lowest round ever by a female golfer competing against men. That legendary 68 was one stroke short of allowing her to make the cut, but it definitely captured the world's attention.
She really hasn't come down from the silver cloud since, despite a couple of bumps along the way.
When she came back to Waialae last year, things seemed in place for her to become the first female to make the cut in a regular PGA event. But Wie was admittedly over-anxious and struggled to two over-par rounds.
Then, there was the infamous "Michael Bamberger incident" and her disqualification from her first official pro event at the Samsung International. Amazingly, Wie's popularity never faltered, although the same could not be said of Bamberger, the Sports Illustrated reporter who took a thrashing from both commentators and golf fans all over the world for reporting her alleged violation a day after it happened.
Don't mess with our beloved Michelle was the message.
This year, specifically this
week, all that is past, and Wie's expectations are high. She knows this Waialae course like the back of her hand. This is her year. This is the week that she can make history.
But hers is not the only story this week. Back to defend his title is Singh, the so-called "10-million-dollar man" after he became the first pro ever to win $10 million in tournament earnings in one year.
Singh's first name, Vijay, means victory in his native Hindi, and the 42-year-old Fijian has proven that time and again in the past few years. He led the PGA in earnings in 2003 and 2004 and finished second to Tiger Woods in 2005. He's also currently listed No. 2 in the world's rankings, after trading the No. 1 spot with Tiger a couple of times last year.
But the focus on Singh isn't the way he won the SONY Open last year, fashioning a final round 65 with a birdie on the 72nd hole to edge a hard-charging Ernie Els at the wire by one stroke. It should be, but it isn't.
Simply put, Singh just isn't warm and fuzzy. Maybe it's the constant scowl he seems to wear while he's working, and frankly, nobody outworks him when it comes to preparation.
Or maybe it's his seemingly gruff comments to the press. Let's face it, Singh didn't exactly endear himself to anybody except chauvinistic traditionalists when he blasted LPGA legend Annika Sorenstam for trying to play in a men's event. "She doesn't belong here," was his terse comment, and he had the world press lashing out at him for weeks afterwards.
Since then, though, Singh has tried his hardest to make amends. He's been respectful toward Wie, realizing that these are not the times to be politically incorrect. Then, when he won at Waialae last year, he was extremely gracious.
Maybe it was the aloha spirit kicking in.
Who knows what drama is in store this week? But by Sunday, every golf writer in the world would sell his laptop and his fountain pen for the chance to see Wie and Singh in the final pairing.
To see that play out, golf fans all over wouldn't even necessarily need to be guaranteed a happy ending. Just the famous duo being there would be enough.
Call it dramatic license.
Most Recent Comment(s):