The Papa Of Waianae Boxing

By
.(JavaScript must be enabled to view this email address)
Wednesday - July 30, 2008
|
Share

Del.icio.us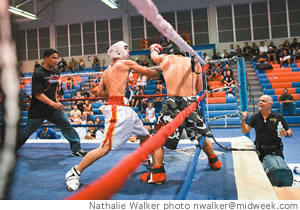 Papa Fred Pereira, coach of champions, father of a tradition
They call him "Papa Fred"- and for good reason. Fred Pereira has been father, grandfather, foster parent, coach and mentor to generations of youngsters in Waianae.
Now 74 years old, Papa Fred has spent the last four-and-a-half decades as the coach of the Waianae Boxing Club. Founded in his own garage in the early 1960s, he has coached more teenage national champions and boxing belt winners than anyone in recent Hawaii history.
His mission is to keep kids off the streets and away from drugs.
"I love working with kids. I never charged a fee," says Papa Fred, who donates all of his time and many of his own resources to keep the club going.
He's been on the Mainland with his team this summer, watching many of his young boxers win title after title. The youngest winner is his own granddaughter, 13-year-old Jada Pereira.
"She started when she was only 8 years old," Papa Fred says proudly.
Jada is one of several family members who have won titles and belts under Papa Fred's outstanding tutelage.
His sons Anthony and Sonny were both excellent boxers in their youth, and 17-year-old grandson Anthony Pereira has won the most belts in club history-eight at last count! Papa Fred's 18-year-old granddaughter Sa-Fire is another recent belt winner. "She's ranked as high as No. 2 in the U.S.," he says. Another granddaughter, 12-year-old Autumn, is another upand-comer.
Papa Fred claims the distinction of being the first Hawaii boxing coach to produce a National Golden Gloves champion - his foster son Julio Rodrigues won that coveted title many years ago. Julio also was later selected for the U.S. Olympic team, but was injured before he could compete.
"I give them everything I have. More than anything, I show them how much I care," he says.
The boxing saga started many years ago after Papa Fred finished an impressive boxing career in the service. A native of Honolulu and Waianae, he was an Army corporal and a veteran of the Korean War. His father, Anton, who emigrated from Portugal to Hawaii, was a boxer, too, so the sport ran in his blood. His mother, Anita, also was an outstanding competitor, and was once the oldest runner to compete in the Honolulu Marathon at the age of 80.
That kind of competitive spirit pushed Papa Fred when he came back to the Islands after his stint in the military, college in California and work as a general contractor.
"I was repairing motorcycles as a part-time job and some of the guys saw my boxing trophies in my garage. They asked me if I could train them to box. We started right there in the garage - pretty soon, they were more interested in boxing than motorcycles," he recalls.
The new club became so popular that it soon outgrew the garage, moved on to Waianae High School, the local 442 building and an old church at a local military installation until it finally found its present home at Waianae Recreation Center. Papa Fred gives credit for a lot of his success to the Police Athletic League (PAL). "They really helped me a lot. They supported me in every way possible," he says.
More credit goes to the young boxers themselves. "I don't have any assistant coaches," he says. "My only assistants are my fighters. They listen and they pass it on to each other."
Passing on his vast boxing knowledge is Papa Fred's passion. He expects to be coaching like this for many years to come.
"I hope, when they come to take me, it's at the time when they're raising my kid's hand in the ring and I'm there in the corner. That's the way I want to go, God willing," he says.
That's Papa Fred Pereira-the father of Waianae boxing.
CORRECTION: In a previous column, Kahuku High School was mentioned as included on a list of potential school closures in a legislative measure asking for a commission review of declining school enrollment and other issues. Elementary schools in the Kahuku complex were part of that list, but the high school was not. I regret the error.
Most Recent Comment(s):