The People's Games Are Returning

By
.(JavaScript must be enabled to view this email address)
Wednesday - May 18, 2011
|
Share

Del.icio.us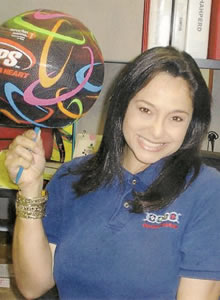 Toni Costa Muranaka can spin a ball with the best. Photo courtesy Toni Costa Muranaka
Perhaps it's not surprising that Toni Costa Muranaka is now involved in the Aloha State Games as executive director of Kaho'omiki, the nonprofit that governs the games. She's been involved with nonprofits for years, and she definitely knows a thing or two about getting people's attention.
Kaho'omiki means "to call attention, with alertness," she says. "We're trying to call people to action, to alert them."
The former Miss Hawaii USA (she won the title in 1986) is now alerting people to the benefits of signing up for this year's 2011 Aloha State Games - known since 1990 as "the games for the common person".
"We've added new sports, including tae kwon do, ocean swimming, stand-up paddleboard and a 1K run known as Run for Office," she says. "Our goal is to recapture the aloha by putting the aloha spirit back in the games. From 2,200 participants last year, we're hoping for 3,000 this year - and eventually we want to get it back to 5,000, like it was many years ago."
Opening ceremonies are scheduled for Saturday, June 18, at Ala Moana Beach Park's McCoy Pavilion, but you can register online now for the different sports, by Googling "Aloha State Games" or by going to the nonprofit's website kahoomiki.org.
"This is the first year for online registration, so we hope that makes it easier," she says.
Toni is "a Kailua girl," she says. "I went to Keolu Elementary and I played a little softball, but I really wasn't very good in sports, even though I was such a tomboy. When I was in elementary school, the boys used to irritate me, so I learned a trick of spinning the basketball on my finger to show them who was better."
Eventually, Toni became so adept at the trick that she could spin a ball on every finger, and on her elbow, too. "When I got into modeling (and pageants), I used the ball tricks when I modeled on the runway. That was my talent."
Obviously, it impressed the judges because it helped lead her to representing Hawaii in the Miss USA pageant. A few years later, it also helped her get important messages across when she became the senior director for youth market for the American Heart Association.
"I used the talent to get the kids to listen to me when I would go out to the schools," she says. "I'd bring the boys out and have them try to show me how to spin the basketball, and I would pretend I was just learning. Then I would put the ball on my finger, my elbow, and then on a pin, and boy, did they listen to me then! I really had their attention!"
While basketball-spinning probably won't be in the Aloha State Games anytime in the near future, 30 other sports are. You've got a great deal to sign up for, from a 10K run and track and field to softball, volleyball, flag football, rugby, table tennis, fencing, equestrian, archery, target pistol shooting and more. Some of the events start as early as June 4, and some won't end until much later in the summer, so make sure you check the website for specific details, and sign up soon.
"I'm so excited, and a little nervous, too," Toni says. "We're hoping we can make the Aloha State Games as big as they used to be."
With a little attention - and perhaps maybe even a spinning ball trick or two - Toni Costa Muranaka is ready to get local recreational athletes up and running again in this year's Aloha State Games. E-mail her at .(JavaScript must be enabled to view this email address) or give a call to the office at 1-800-581-7491.
Most Recent Comment(s):