The PIAA 'Auntie To The Athletes'

By
.(JavaScript must be enabled to view this email address)
Wednesday - May 05, 2005
|
Share

Del.icio.us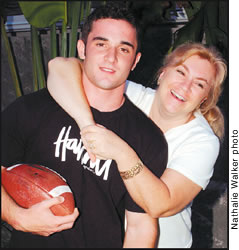 'Auntie' Doris Sullivan with son Kevin
Doris Sullivan is affectionately known as "the auntie to the athletes." And it's a fitting tribute to a woman who helps dozens of local athletes each year.
This past year alone, Sullivan and her Pacific Islands Athletic Alliance (PIAA) helped dozens of local student-athletes through the complex recruiting process. According to Sullivan, "about 80 signed letters of intent" to play college sports.
"I do feel like they're my kids," she says. "They call me on the phone and my husband says 'Auntie, you've got another call.' Or they come over to my house and we talk about what's next for them. They're really great kids."
Helping kids and coaches is what PIAA is all about. The nonprofit organization was formed last June and provides SAT prep workshops for student-athletes, helps them through the recruiting process, and puts on coaching clinics.
This month, Sullivan has been organizing the 2005 PIAA Football Coaches Clinic, scheduled for Waikiki's Outrigger Reef Hotel on Friday, May 20. Bigname Mainland head coaches like Frank Solich (formerly of Nebraska, now with Ohio) and Tom Kraft of San Diego State, will join Hawaii coaches Rich Miano, Dan Morrison, Mel DeLaura and many college assistants to "teach high school coaches the newest techniques and drills," Sullivan says. "This clinic is all about our local high school coaches learning from top college coaches. And it's also a great way for the college coaches to meet our local coaches, too."
That last part is important in the recruiting process, something that Sullivan is intimately familiar with. Her own learning curve in that subject started with her own son, Billy, a former running back at Damien.
"Billy was a good athlete, but he was undersized. And there was not much interest out there," Sullivan says. "I had been in marketing with the (NBA) Washington Bullets and had been a former bank manager. I knew I had to get involved."
As a bank manager in Maryland (before her family moved to Hawaii in 1999), Sullivan had helped numerous families through the challenging college loan process. Billy was an outstanding student, so her efforts to contact college football programs around the country helped him land a scholarship at the Air Force Academy. Four years later, her second son, Kevin, a standout running back at St. Louis this past season, landed another scholarship from Air Force.
"Not in my wildest dreams would I have ever thought that both would be at the Air Force Academy," she says, with obvious pride. Billy is an engineering major, who plans to graduate next year. He hopes to become a fighter pilot. Kevin graduates from St. Louis this next month, before heading off to Colorado Springs this summer. "He's still undecided on a major, but perhaps something with business and Japanese. He speaks the language really well." Sullivan, who worked for Hawaii Sports Network for several years before forming her own company, has numerous success stories from throughout the Hawaiian Islands and American Samoa.
"Most recently, we're very proud of (Farrington offensive lineman) Shawn Lauvao," she says. "He was being overlooked until we got in touch with people. He was a 3.9 student (and also 6 feet 4 inches tall and 290 pounds) and eventually he ended up signing (with Arizona State). Another is Raphael Ieru of McKinley, who signed with the University of Hawaii. He was an offensive lineman at McKinley, but we got in touch with Vantz Singletary (the UH defensive line coach), and he's sold on him."
Sullivan says her life has been filled with sports "ever since I was little," she says. "It's in my blood. Everyone in our family played sports, even my mother, who was a long jumper before World War II. I played tennis and track and was a cheerleader. There was no Title IX back then, (but) I did play a little tennis at the University of Maryland."
Through her own sons, and all the rest of the young student-athletes she's encountered, "Auntie" Doris keeps giving back to the games she's always loved.
For more information on her football clinics, and the high school-to-college recruiting process, visit her website at www.pacificathleticalliance.com
Most Recent Comment(s):
Commenting is not available in this weblog entry.