The Power Of Water To Heal Injuries

By
.(JavaScript must be enabled to view this email address)
Wednesday - August 05, 2009
|
Share

Del.icio.us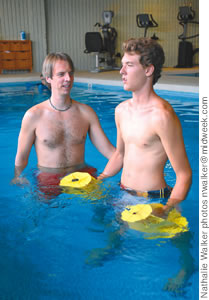 Matt Weissbach (left) works with Saint Louis senior Noa Siegfried on rotator cuff stabilization exercises
When Matt Weissbach moved here from Canada seven years ago, he quickly fell in love with Hawaii's abundance of water - the open ocean, great water sports, warm temperatures, healthy lifestyle. What he probably didn't realize at the time was how much water was going to be a huge part of his life.
Today, Weissbach is a physical therapist and personal trainer at OrthoSport Hawaii, one of the few PT clinics on the island that features a full-size pool for water therapy.
"When I was a student, I saw knee and hip patients rehabbing in the pool, and what a difference it made to them," he says. "I saw the great recovery time."
OrthoSport is located in Niu Valley Shopping Center at the site of a former pool and spa center that also housed a local swim club for years. The physical therapy pool measures 37-by-15 feet with heated saltwater at a depth of 3 to 7 feet. There's also a smaller pool with an underwater tread mill.
"We also have a fully equipped gym, so we can work with patients on both land and water," he says.
Weissbach believes that water therapy can have a huge impact on the local sports community.
"I know most people think the water is for the geriatric population - and we do have patients as old as their 90s - but we want to get the word out that athletes are rehabbing in the pool, and it's getting them back on the playing field faster," he says.
He cites recent water therapy success stories on a national level: NBA stars Grant Hill, Jason Williams and Greg Oden, to name a few. He says his clinic has worked with former professional athletes and with current college and high school athletes.
"The water allows for decreased weight bearing, and then increased strength and confidence due to reduced pain," he says. "I've seen people helped with ankle sprains, knee injuries, back problems, shoulders, hip replacements. Seeing what could be done for them was remarkable."
He says he's currently working on an anecdotal study that he believes will show that therapy in the pool will lead to a much speed-ier recovery.
"I'm doing a case study on a patient who injured her knee while snowboarding," he says. "She's a very active athlete and wanted to get back as quickly as possible, but she came here with a real confidence issue. She was wearing a brace and was truly afraid of re-injury. She got into the aquatic environment and immediately felt less pain. Her confidence blossomed and she was able to get rid of the brace in a hurry. The results speak for themselves."
Weiss-bach got into the physical therapy business because of his own athletic injury. He was a provincial championship basketball player in high school and was recruited to play by the University of Ottawa.
"A knee injury prevented me from playing," he says. But the recovery process also sparked a new curiosity. "All the things going on with my knee piqued my interest in the rehab process. I had all this personal frustration and I saw a real need for getting (the proper professional help)."
In 2002, after hearing about opportunities in Hawaii from former high school teammates who played ball here, he came to Oahu as part of a six-week physical therapy internship in Aina Haina.
"I fell in love with the place," he says. "I knew this is the environment that I want to be in - both climate-wise and professionally."
Seven years later, he's in the pool with his patients almost every day. He says his job is very rewarding.
"It's the interaction with people and seeing them succeed," he says. "We often see people all the way from surgery all the way back to playing. We see them back in their sport, or getting their independence back.
"It can really improve a person's quality of life."
For more information on physical therapy in a pool setting, feel free to call Weissbach and the staff at OrthoSport at 373-3555.
Most Recent Comment(s):