The Pressure Is On UH's Frazier

By
.(JavaScript must be enabled to view this email address)
Wednesday - March 14, 2007
|
Share

Del.icio.us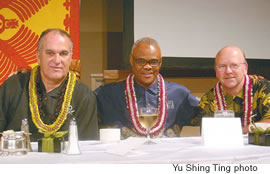 Herman Frazier, center, with June Jones and WAC
boss Karl Benson
I've always liked Herman Frazier. Admired him. Really respected him.
Thus, I was caught offguard recently when I heard hundreds of University of Hawaii fans booing their athletic director during the Riley Wallace retirement ceremony at the Stan Sheriff Center.
Those fans booed loud and lustily. And their message was loud and clear. Frazier is not a popular guy right now.
And that's truly surprising. Every time I've spoken with him I've found him to be engaging and passionate about what he does. Frazier truly cares about the university.
But here's the rub: He's not really connecting with the average fan.
Over the past few years, fans have seen ticket prices skyrocket, especially football season tickets.
They've seen their longtime head basketball coach retire - some might say "forced to retire."
And they haven't seen a replacement named, even though many local fans are clamoring for popular assistant Bob Nash to get the nod.
Fans have been frustrated that the football scheduling process has taken so long. The fans know we've got a potentially great football team coming back with a legitimate Heisman Trophy candidate. And they want our Warriors showcased on the greatest stages possible.
Through it all, Frazier has seemed distant. Some might say uncommunicative at times.
That's quite a difference from his predecessors.
The late Stan Sheriff, for which the arena was aptly named, was always just a phone call away. He was a fighter in every sense of the word, and he fought for his beloved teams. And because he communicated to everyone about how hard he was fighting for Hawaii's sports fans, the public loved him.
Hugh Yoshida didn't have the chutzpah of Sheriff, but he was always out there. You could see him at every game and he was always approachable. He might not have an answer to your every question, but he was always willing to talk with you. And with the exception of baseball, no one could deny the success of Hawaii's athletic teams during Yoshida's tenure.
Enter Frazier into the fray. He had a tough job right from the start. Somebody had to balance the budget, and tough decisions had to be made. It would take raising prices and fees, but let's face it, you've got to pay the bills. Sometimes an executive has to make an unpopular decision to keep the ship afloat.
Contract negotiations - a good executive will never allow them to go public. In this arena, Frazier has had his ups and downs. Some coaches are signed, sealed and locked in place, while others are left hanging. Football fans, for example, are wondering why June Jones' contract hasn't been extended. Wallace got two years and that was that. No extension, period.
And then there's the Nash thing. Some fans adamantly want Nash's loyalty to the program rewarded.
Others believe that we're best served by getting a big-name coach or assistant from a big-name school.
But whatever the decision on Wallace's replacement, fans just want their athletic director to be decisive. Be strong. Make a decision. Don't leave future recruiting classes hanging.
The football schedule problem might be out of Frazier's hands. ESPN has gotten involved, and that's good for our program. Let's face it, Hawaii under Coach Jones has gotten very good. And some big-time Mainland schools simply don't want to play us anymore. That's their problem, not Frazier's.
So the bottom line is this: Hawaii fans are frustrated. They want results and they aren't going to be patient any longer.
Herman Frazier, the Olympian, always rose to the challenge. Now it's time for Frazier to win his gold medal as an athletic director.
Most Recent Comment(s):