The Stadium Days Of Our Lives

By
.(JavaScript must be enabled to view this email address)
Wednesday - September 10, 2008
|
Share

Del.icio.us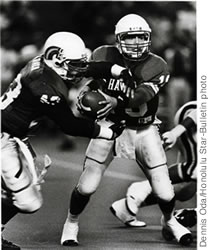 Garrett Gabriel (check out the cool uniforms)
This is stream of consciousness writing, as I realized this week that I have been going to University of Hawaii football games for 20 years, dating back to when I moved to the Islands in 1988.
Oh, my - there have been so many great moments to remember, from the first game I saw and for the next two-plus decades. In fact, that first game featured freshman Jason Elam's winning field goal against powerful Iowa as Aloha Stadium rocked with excitement.
Other "wow" moments from 20 years in the stadium include:
* Robert Lan's miraculous 92-yard fumble recovery for the winning touch-down in the waning moments against Air Force
* Chad Owen's unbelievably exciting returns that set the stage for a 72-45 blowout over BYU
* Nick Rolovich throwing eight touchdown passes in that same game!
* Ashley Lelie's heart-stopping catch in the corner of the end zone to beat Fresno State in the final seconds
* Jamal Farmer scoring on a screen pass behind a wall of blockers as the 'Bows throttled BYU 56-14 to break the long losing streak against the Cougars
* Newly crowned Heisman Trophy winner Ty Detmer on his okole again and again when the 'Bows ripped BYU 59-28 the very next season
* Jeff Sydner's Heisman pose
* Garrett Gabriel's final touchdown
* Timmy Chang's march into the record books
* Speedy Matthew Harding's amazing catch - amazing because he'd never caught anything before! - to set up the winning touch-down in a comeback win over BYU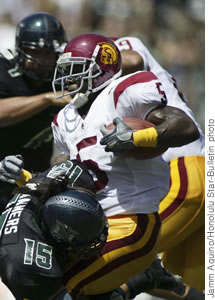 Reggie Bush of USC, and now the NFL Saints
* Winning the WAC co-championship in 1992 when the so-called experts had predicted the 'Bows to finish eighth in pre-season polls
* Watching Ricky Williams in his coming out party for the Texas Longhorns
* Seeing up close Michigan's and Wisconsin's unbelievably huge offensive lines
* Dropping my jaw at the speed and talent of Reggie Bush
* Trying to forget Marshall Faulk
* Trying harder to forget Glenn Freitas going up into the stands and several years later, the brawl against Cincinnati
* Thinking we could beat Notre Dame, then falling just a point short
* Beating Alabama and their crimson wave of fans
* Coming back against Michigan State in the second half in the year Hawaii had to win four straight games to earn a bowl bid - they did it!
Chad Owens runs wild against Boise State
* Beating Houston in triple overtime in the Sheraton Hawaii Bowl
* Watching Fresno State's fourth-down pass in double overtime sail out of the back of the endzone as Hawaii won the WAC title in 1999, the greatest turnaround season in NCAA history!
* Holding your breath as Ikaika Alama-Francis or Travis LaBoy came off the edge to destroy the opposing quarterback
* Wondering how anyone could withstand a hit from Nate Jackson
* Seeing and truly believing Colt Brennan's innate ability to elude pressure and put another pass right on the money!
* Watching Colt Brennan play any game against any opponent
* Coming back from an early 21-7 deficit against Washington when Hawaii was trying to finish an undefeated regular season and earn the school's first-ever BCS berth - they did it again!
* Going to sellout after sellout at the end of last season.
Oh, the memories we had - and the best news yet, the memories just keep on coming!
What's on your list?
Most Recent Comment(s):