The World Youth Baseball Capital

By
.(JavaScript must be enabled to view this email address)
Wednesday - September 14, 2005
|
Share

Del.icio.us
I played Little League baseball when I was young. Later, between pitching stints in high school and college, I also played Babe Ruth baseball and PONY baseball and American Legion baseball. Before that, I played tee-ball and what they called "10-inch ball" (a coated, rubberized ball).
I love the game. That's why I was so excited to watch the West Oahu All-Stars from Ewa Beach win the Little League World Series.
And just like most of you who watched on ESPN or ABC or who cheered our newest heroes in the Waikiki parade, I can tell you the stories of Michael Memea and Myron Enos and Layson Aliviado and Vonn Fe'ao and all their teammates. Their names have become household names in Hawaii sports history.
And they should be.
But what's really amazing - as was detailed in last week's MidWeek - is that Oahu boasts another world championship team in the same age group! Yes, the Cal Ripken All-Stars, who along with the CABA Warriors (age 9 and under) were honored in the same parade.
"I don't know how many places can boast two world champions in the same season at the same age level," says Mike DePonte, whose 12-year-old son Jordan played for the Cal Ripken All-Stars. "We knew how good Ewa Beach was. They played against us in the Cal Ripken season."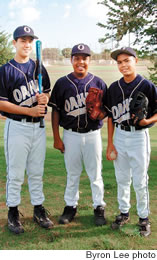 Cal Ripken All-Stars Kewby Meyer,
Kalani Lagoc-Crawford and
Jordan DePonte
The Cal Ripken All-Stars (a league formerly known as the Babe Ruth League Bambino Division) were a conglomeration of players from two teams. "We were from Aiea and Kaimuki," says DePonte. The team's coaches were Gerald Oda and Keith Oda (brothers of former University of Hawaii pitcher Donovan Oda) and Staphe Fujimoto.
It's the coaches, DePonte believes, who are the driving force behind Hawaii's youth baseball success. Like Coach Layton Aliviado, who guided the West Oahu players to the world title, they work with their players year 'round.
"For my husband, baseball is six days a week, 24/7," says Debbie Aliviado, Layton's wife.
It was that way with the Cal Ripken All-Stars, too.
"Back when we were young, kids went from football to basketball to baseball," says DePonte, who was a basketball star at Moanalua High School and then later guided Hawaii Loa College to the NAIA tournament. "Now, kids play baseball year 'round. The weather here, the coaching, it all makes a difference."
The Hawaii team showed that difference by winning the regionals in Arizona and then heading to Maryland for the World Series.
"They played at Cal Senior's Yard in Aberdeen," DePonte says. The field is a replica of Camden Yards where Baltimore Orioles legend Cal Ripken played for so many years.
"Cal spoke to all the teams one-on-one beforehand."
Ripken's Ironman prowess must have rubbed off on the Hawaii All-Stars. The local boys cruised through pool play undefeated. In one of those early wins, Kewby Meyer and Jordan DePonte combined on a no-hitter. Later, in the United States championship game against Kentucky, Meyer and DePonte combined for a 1-0 shutout, and Kalani Lagoc-Crawford ripped an extra-inning home run to win the game. "The Kentucky pitcher was clocked at 85 mph," DePonte says. "That converts to 111 mph at the Major League level!"
But against the best, the Hawaii kids saved their best - and they saved it for last. "We played defending champion Mexico. They hadn't lost in three years," DePonte says. But with Meyer, DePonte and Lagoc-Crawford tossing a one-hitter and Lagoc-Crawford hitting a game-winning ground-rule double to drive home Ryan Yamane, Hawaii won the World Series championship, 1-0. Hawaii was champion of the world!
Can it get any better? Well, consider this: Hawaii has also recently won world or national titles in Babe Ruth, Colt/PONY and the Little League Junior and Senior Divisions. So, there's room for even more success out there.
The Baseball Summer of 2005 proves one thing. Don't mess with Hawaii. Here, in the islands, we do baseball right.
Most Recent Comment(s):