Thinking Daily Of Christmas Eve

By
.(JavaScript must be enabled to view this email address)
Wednesday - October 08, 2008
|
Share

Del.icio.us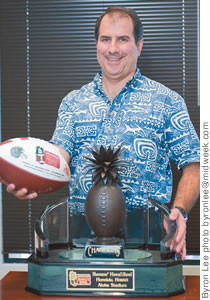 David Matlin: Pac-10 vs. WAC
It's only October, but David Matlin is already thinking about Christmas Eve. Of course, Matlin has been thinking about that date for months, ever since he took over from Jim Donovan as the new executive director of the Sheraton Hawaii Bowl.
Now, 10 weeks away from the Dec. 24 bowl game at Aloha Stadium, you might think that Matlin is chewing on his nails, worrying about whether or not the struggling Hawaii Warriors can make themselves eligible for the game. The long-standing agreement says the Warriors must win seven games to earn a spot. Four of the six years the Sheraton Hawaii Bowl has been in existence, Hawaii has been the showcase team - and the bowl has been the beneficiary of strong attendance numbers.
"If Hawaii is in, it's obviously a positive," Matlin says. "If Hawaii is not in the game, then we have to work harder and harder."
Given the Warriors sub-.500 record at this point in the season, there could be a lot of reasons to show concern, but Matlin remembers that Hawaii has recovered from the bowl precipice before - in 2004, they needed to win their final four home games to become eligible, and they came through.
"I'm still optimistic," he says. "Hawaii has a lot of games left. I'm not sweating bullets."
One reason for his optimism is that this year's WAC bowl opponent - whether that's Hawaii or another WAC team - will come from the Pac-10. It's very possible that the West Coast's most prestigious conference would send someone like Stanford or Cal or Oregon State or Oregon (MidWeek's editor's first choice) to the Christmas Eve classic. National pundits have been talking about how down the Pac-10 is this year, but Matlin sees the glass as half full rather than half empty.
"From our perspective, the Pac-10 is looking pretty good. I see seven teams that have records around .500 or better," he says. "We also have a strong alumni base for many of the Pac-10 schools and that helps us."
The Sheraton Hawaii Bowl will get the sixth pick from the Pac-10. That's not necessarily the sixth-place team, but the sixth school that the conference designates to go to a bowl game. The bowl game is also working promotionally with the conference to raise awareness of the tie-in with Hawaii.
"We're working on West Coast promotions - specifically with Chevron and Pepsi - from Seattle to San Diego to get people excited about coming to Hawaii," he says.
Another reason that Matlin remains optimistic about this year's game, even if Hawaii doesn't make it, is the success of last year's matchup between Boise State and East Carolina. That contest was well-attended and tremendously exciting, with Boise State coming back from way behind and then East Carolina winning on the game's final play, 41-38. "Last year really was a pleasant surprise," Matlin recalls. "I think the Boise State story and the familiarity with local fans was a real positive. Then, (East Carolina's) Chris Johnson had an awesome game and turned into a No. 1 NFL draft pick. It was an awesome game and gave us something to build on."
Quotes like this from East Carolina's head coach Skip Holtz, the son of coaching legend Lou Holtz, also can't do anything but help: "I have been going to bowl games since I was a kid, and the Sheraton Hawaii Bowl does not take a back seat to anybody. I think it is the greatest experience for the players out of all the bowl games out there. You have a great location and Hawaii sells itself, but you also have phenomenal people. It is truly a class affair."
The final component that makes Matlin optimistic is the high-scoring competitiveness of the Sheraton Hawaii Bowl. Since the game started in 2002, the winning team has scored 40 or more points five of the six games, and three times the losing team has scored 40 or more points! The average combined score in six years is 47-38, making the Sheraton Hawaii Bowl one of the most exciting bowl game traditions anywhere in the country.
It's no wonder that David Matlin is thinking about Christmas Eve every single day of the year.
Most Recent Comment(s):