This Catcher Gets The Last Laugh

By
.(JavaScript must be enabled to view this email address)
Wednesday - April 16, 2008
|
Share

Del.icio.us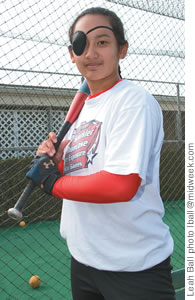 Chelsea Kamai: plundering the opposition
Chelsea Kamai of Sacred Hearts Academy has heard all the jokes.
"They call me 'Pirate' and they ask me if I want a parrot," says the starting catcher for the defending Division II state champion Lancers. "I get people saying 'Arrrr!" a lot."
There's no doubt about it, she's the only one-eyed catcher around. "She's better with one eye than most others with two eyes," says her coach Wade Okamura.
But the eye patch Chelsea wears when she plays softball is not part of a costume and it's really no laughing matter, although Chelsea takes the jokes in good stride.
The eye patch is actually there for much-needed protection after an in-game accident caused her to have eye surgery. The incident happened in soccer this past fall when she and an opposing player went up for a header during an ILH soccer match.
"Instead of hitting the ball, her head caught the under side of my eye," Chelsea recalls. The result was a mild concussion and a slight fracture to the bone under the eye that also caused nerve damage. Surgery was needed to get things back to normal - but "back to normal" was going to take time.
"I was kind of scared," Chelsea says.
"Amazingly, she was back on the field in two weeks," Okamura says.
With her vision still blurry - "I suffer from double vision a lot," Chelsea says - the Lancer midfielder wanted to get back with her soccer teammates for the Division II state tournament. Given a doctor's OK, she helped Sacred Hearts earn a big victory in the state tourney and the Lancers finished sixth overall.
"I just wanted to help my teammates," she says, looking back at why she ended up in competition so quickly.
"She didn't wear the eye patch at first," Okamura says.
But then came time for softball season and with the blurred vision continuing, and the prognosis for full recovery timed at six months, at minimum, Chelsea didn't wanted to miss an ounce of time behind the plate. She has been the Lancers' starting catcher since her freshman season and now, as a junior, was expecting to be one of the team's leaders.
She had earned a reputation as a tough and courageous player. Two years ago, when the Lancers finished as the Division II runner-up, she earned the team's so-called "Guts Award." Playing through pain and under pressure had become her own version of "normal."
It helps that she plays for the veteran Okamura, who has turned Sacred Hearts into one of the top softball teams in the state - last year, the Lancers won the DII state title, and this year they have been battling for second place in the powerful ILH. Playing with an eye patch all season long, Chelsea has been unflappable despite her obvious challenge.
"Sometimes I have a problem with my peripheral vision," she says. But opposing teams still can't take advantage of her. In a recent game at Central Oahu Regional Park, she gunned down a would-be base stealer with a rifle throw to third base. It was a play that would have been noteworthy even if she had no sight challenges.
"The only thing we've noticed is with her hitting," Okamura says. "Sometimes she gets frustrated. But as coaches, we understand. In fact, in many cases, we've had to remind ourselves that she has the injury."
Through it all, Chelsea has been tremendously resilient. She battles hard every game and refuses to back down or make excuses. "It's getting better," she says.
Chelsea is also a resilient and outstanding student in the classroom. The native of Kahaluu sports a grade point average of about 3.75.
So, if the sight of the eye patch makes you prone to come up with your own pirate joke, remember that Chelsea Kamai isn't surprised or intimidated by any of it. This is one Lancer who sees everything she needs to, and who continues to meet everyday challenges head on.
Most Recent Comment(s):