This Could Be The Year For A Title

By
.(JavaScript must be enabled to view this email address)
Wednesday - August 23, 2006
|
Share

Del.icio.us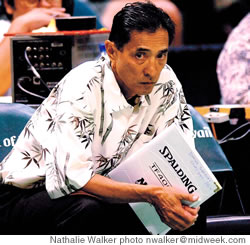 Coach Dave Shoji: 'We're way ahead of last year'
The challenges of a new season can stress out any coach. But Dave Shoji, who has started new Wahine volleyball seasons for more than three decades, knows how to handle the pressure.
"I try to make it a point to work out. I start out every day with a half-hour or 45-minute workout; that invigorates me," Shoji says. "I run occasionally, but mostly I work out on the Stairmaster, elliptical machine, or stationary bike. After that, I feel really good about tackling the day."
It's hard to believe that Shoji is pushing 60. His ever-youthful appearance belies his longevity in the game. Now in his 31st year at the helm of the powerful Wahine volleyball program, Shoji has 895 career wins. He should reach the magic 900 victory mark - second in NCAA history - in the first few weeks of this season.
"Whenever I reach a milestone, I think about all the players of the past," he says. "I give credit to them - it's their record."
The season for the 2006 Wahine begins this weekend, Aug. 25-26, as seventh-ranked Hawaii hosts 19th-ranked Pepperdine for two matches at the Stan Sheriff Center. Shoji says he's excited about his team.
"I'm encouraged," he says. "We have a lot of veterans and they all returned in great physical condition. I feel we're way ahead of last year."
Last year's team struggled early, but still won another WAC title and a trip to the NCAA tournament. But Wahine fans have come to expect excellence from Shoji's teams and, thus, the goal each year is a Final Four appearance and a shot at a national title. With Hawaii playing host to the NCAA Regionals in December, Shoji believes that this team could have that shot.
"I don't see anybody in the country who is unbeatable," he says. "A lot of teams are in the mix this year, and I think that we're one of them."
In the pre-season polls, Nebraska is ranked No. 1, but the Cornhuskers aren't an overwhelming choice. No team stands out this year, Shoji says. Hawaii will get a chance to see how it fares against three of the top 10 teams during the pre-season, facing No. 4 Stanford, No. 5 Florida, and No.10 UCLA.
"I think physically we're right there," Shoji says.
Proof of that came when the WAC announced its pre-season award picks and five Wahine were named to the all-conference list, including Sarah Mason, Juliann Sanders, Tara Hittle, Jamie Houston and conference player of the year Kanoe Kamanao.
Kamanao, the All-America setter from Iolani who could contend for national player of the year honors, will be the key to the Wahine success.
"She's such a great player; it all starts with her," Shoji says.
With returning veterans around her, Shoji says the early season is also the time to find "a couple of passers, a terminator and someone in the middle to replace (the graduated) Victoria Prince."
Shoji will get help in that endeavor from a new member of his coaching staff. Gone is the energetic and vocal Charlie Wade, who took over head coaching duties at the University of Pacific this year. Replacing Wade is former UCLA men's assistant Mike Sealy.
"Mike is a great addition,"
Shoji says. "The girls really like his style and are responding to his encouragement. He's a little more low-key, analytical and soft-spoken. I've noticed that our staff tends to be a little more mellow without Charlie."
Whether that's a good thing or not remains to be seen, but Shoji feels very confident about the prospects for this 2006 season.
It all starts Friday night - right after a daily workout that invigorates Dave Shoji to make another run at the national title.
Most Recent Comment(s):