This Fight Champ Wears A Ponytail

By
.(JavaScript must be enabled to view this email address)
Wednesday - August 15, 2007
|
Share

Del.icio.us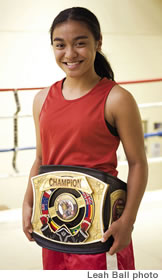 Alyssa-Lenda Kane and her world title belt
Hawaii has a new world champion boxer. Her name - that's right, her name - is Alyssa-Lende Kane.
Alyssa is just 13 years old, and has been boxing competitively for less than a year, but the Kapolei eighth-grader recently won a world title at the 2007 Ringside World Boxing Championships in Kansas City. On Saturday, Aug. 4, Alyssa stopped defending champion Shelby Bialkowski of Canada in the first round to win the girl's 13-14 114-pound weight division.
"It went by too quick," Alyssa says. "It's hard to believe I did it in the first round."
Alyssa's journey to championship success has been just as quick. She started her boxing training in the spring of last year.
"I watched the movie Million Dollar Baby with Hilary Swank and I fell in love with the sport," she recalls. "My intention was to try it as a way to work out, to get a good sweat."
Alyssa started working out with the Waipahu Boxing Club at Waipahu District Park with Al Silva and Armando Blue in April 2006. After a few short months, she had made a great impression with her willingness to work hard.
"My coaches asked me if I wanted to spar, and so I asked my dad (former Waianae High School football star David Kane). He said 'Are you sure?' and I said 'Yes, I'm sure.' Then the coach asked if I wanted to enter a tournament, so I did in November (2006) on Maui. I lost my first fight and I was sad, but I knew already how much I loved the sport. There's so much energy."
Like the tough-as-nails character in Million Dollar Baby, Alyssa wasted no time getting back into the ring. "I won my first fight the very next week in Wahiawa," she says, proudly.
Alyssa, who home schools with the Hawaii charter school Myron B. Thompson Academy, stepped up her workouts.
She trains at Waipahu one day a week, in Ewa Beach one day a week, then takes the bus from Kapolei to Kalihi three days a week to work out with the Bruce Kawano Boxing Club at Kalakaua Gym. She also runs daily with her dad.
"I trained really hard," she says. She also went on a strict diet, staying away from her favorite foods. The tough regimen paid off quickly. In the next few months, she won another fight and also lost one. But Coach Kawano believed she was ready for the world amateur competition in Kansas City.
"He goes every year with his boxers," she says. "I told my parents that I really, really wanted to do this and they were very supportive."
Alyssa flew standby to Kansas City and arrived a few days before the tournament began. "I wasn't nervous," she recalls.
Perhaps her toughest test came in the semi-finals.
"It went all three rounds and I won by decision," she says.
The next day, in the title match, she wasted no time in taking control. "I charged right at her," she says.
A few seconds later, less than a minute into the first round, Alyssa was having her hand raised as a new world champion.
"I don't really have a secret," she says. "You just have to really want it. You have to have a lot of heart. That's how I feel about it because I put everything into it."
Afterward, Alyssa asked for only one thing - her favorite meal of lasagna and ice cream. "It was so good," she says. "It's the happiest feeling I've ever had."
So what's next for the new world champ - besides waiting for the next chance to eat more lasagna and ice cream?
"The PAL championships are in October in California," she says. "That's a big tournament and I want to be ready."
Being ready is a sure thing for 13-year-old Alyssa-Lende Kane, Kapolei's very own Million Dollar Baby.
Most Recent Comment(s):