This Mule Really Has A Kick

By
.(JavaScript must be enabled to view this email address)
Wednesday - March 18, 2009
|
Share

Del.icio.us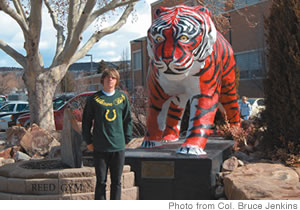 Leilehua's Bryce Jenkins at Idaho State
Army Col. Bruce Jenkins has several reasons to be proud of his son Bryce.
Not only is Bryce Jenkins the current three-time state cross country champion, Hawaii's two-time Gatorade Runner of the Year, and arguably the most prolific distance runner in recent Hawaii high school history, but the Leilehua High School senior has also overcome tremendous challenges along the way.
He has fought back to win state titles after suffering two stress fractures, and he continues to work though a disorder that affects many young people these days. And earlier this month, he made a big decision, by sifting through offers from 60 colleges to sign a national letter of intent to run cross country and track at Idaho State.
"Bryce was born here (in Hawaii) on my first tour of duty," Bruce recalls. "When we moved back here in the summer before his freshman year (in high school), he didn't know anybody. I had him join the summer running program at Leilehua, and it helped him fit in."
Bryce suffers from ADHD, or attention deficit hyperactive disorder. It's a malady that can make focusing a major difficulty. But it also often enhances the ability to obsess on something - and that something can be a positive attribute like running.
"It may help him," Bruce says. "When he locks his mind on something, he really gets into it. When he steps up to the starting line, there's no doubt in his mind that he's going to win."
For the past three years, that's exactly what Bryce has done. As a sophomore, junior and senior at Leilehua, he won every cross country race he ran, helping the Mules belie their nickname and win two state team championships to go along with the three individual state titles.
Ironically, he won every race as a sophomore despite suffering a stress fracture in his foot just before the season began. "Orthotics solved the problem, and he missed only a couple of races," Bruce recalls.
After an injury-free junior campaign in which he broke several local high school records, Bryce once again suffered a stress fracture just before his senior season.
"He trains up to 75-85 miles a week (and) he started having some problems with his knee. An MRI revealed he had a stress fracture, and the doctors said he had to sit out for eight weeks. Technically, he was out for the season," Bruce remembers.
But young Bryce wasn't out for the entire season, and he definitely didn't rest. "He rode the elliptical (cycling machine) and swam and ran in the pool," Bruce says.
The plan was to get ready by the post-season races, but there was a technicality that he had to overcome first. In order to compete in the post-season when his knee would be healthy again, he would have to participate in at least one meet during the regular season. Bryce and his dad devised a strategy.
"We had him enter a race on the Big Island, and I told him he had to walk," Bruce says. "I think it was humiliating for him, but he walked the entire race, and he came in dead last. And he could-n't hide - the crowd there knew who he was and when he came across the finish line, they erupted in applause."
A few weeks later, Bryce was healthy. He ran three post-season races - the OIA West, the OIA Championships, and the State Championships - and he won them all. "He's probably the only runner in history who finished dead last in one race and went on to win the championship," his dad says.
Bryce's next goal is winning his first state title in track and field. (He finished second in the 3,000 meters his sophomore year). "He's setting his sights on the (3,000-meter) record of 8:59.03 (set last year by Dawson Vorderbruegge of Kaiser High School), and hopes to get to 8:45.00."
And then, Bryce Jenkins is ready to run off to Idaho State, where he hopes to continue showcasing his tremendous distance skills. He's also matriculating there for another reason - to become a part of the school's outstanding nursing program.
Somehow for a young man who has overcome so much to achieve excellence, it seems fitting.
Most Recent Comment(s):