Three Generations Of Harrisons

By
.(JavaScript must be enabled to view this email address)
Wednesday - January 11, 2012
|
Share

Del.icio.us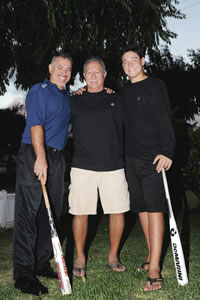 Kenny, Richard and Kainoa Harrison. Nathalie Walker photo

.(JavaScript must be enabled to view this email address)
Just after Norm Chow was named the new head football coach at the University of Hawaii, Kenny Harrison excitedly told his father, Richard, that he had met Coach Chow at the Governor's reception at Washington Place.
"You know, I played with him," Kenny's father told him. "We were on the same all-state baseball team together."
Kenny, the general sales manager for ESPN 1420 and a former University of Hawaii baseball AllAmerican, looked it up. Sure enough, Norm Chow and Richard Harrison were both named first-team allILH and all-state after the 1964 high school baseball season.
"Chow was an undefeated pitcher for Punahou, and my father led the state in hitting at .571 for Kamehameha," Kenny says. "I knew my father was a very good player, but I guess I didn't really realize that fact until Chow was named our new UH coach."
It turns out that Kenny Harrison also has something else in common with Chow. Both have just received their first head coaching jobs after many years of trying. As we all know, Chow is in his first weeks as the new UH head football coach, while Kenny is looking forward to his first season as the new head coach of baseball powerhouse Punahou.
"It's weird that we both waited a long time, and had to be very patient. I'm so humbled to finally get this opportunity," Kenny says. "Hopefully, we can rub off on each other and become successful both on and off the field."
Kenny's baseball lineage is tremendously impressive. His father was an outfielder, first baseman, and pitcher for Kamehameha in the early 1960s a left-handed thrower and hitter. Richard, who has worked for the Honolulu post office for more than 40 years, passed on his baseball knowledge to his son. Kenny, as a catcher, first baseman and sometimes outfielder, led University High as the premier hitter in the ILH and in the state when he graduated from high school in 1989. Kenny threw right-handed, but batted left-handed. His swing was so pure that at least one local sportscaster dubbed him "The Natural."
And now two generations of outstanding Harrison hitters have become three. Kainoa Harrison, Kenny's 15-year-old son, will be playing for his dad this year as a sophomore catcher at Punahou.
"Last year, as a freshman, he started on the varsity, hit over .300 and was third on his team in RBIs," Kenny says proudly.
But unlike his grandfather and his father, young Kainoa is a right-hander all the way. At over 6 feet tall and nearly 200 pounds, with a strong arm and his dad's natural instinct at the plate, he's already caught the eye of major colleges even though playing at that level is a few years away.
"He's already getting letters from several Pac12 schools, including Arizona State, Oregon, Oregon State, USC and UCLA," Kenny says.
And of course, Harrison's alma mater Hawaii will be greatly interested, too.
"He'll play in some showcase tournaments (in the next couple of years). He'll have many more opportunities than when my father and I played."
"I have five boys (Kainoa, 15, Kaleo, 11, Kalae, 9, Kaikea, 7, and Kahuku, 3) and they all have such a passion for the game," Kenny says. "I'm so blessed that they share the passion that I have, that my wife (Kaleka) has, and that my father passed on to me. I know I'm going to be at the park for a long, long time."
That's another thing the three generations of Harrisons have in common with Coach Chow: great success at the park, pride in the past and an enthusiastic eye on an exciting future.
Most Recent Comment(s):