Time To Fix Murakami Stadium

By
.(JavaScript must be enabled to view this email address)
Wednesday - April 02, 2008
|
Share

Del.icio.us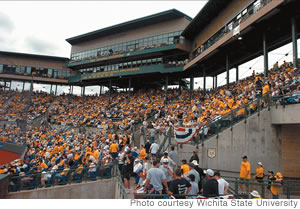 At Eck Stadium, Wichita State fans enjoy a first-class facility and college baseball experience
I've been to two college baseball games in the past few months - one in Wichita and the other Honolulu. In both cases, at Wichita State University and at the University at Hawaii, I saw a great game at a great venue.
Wichita State's Eck Stadium and Hawaii's Les Murakami Stadium have the reputation of being two of the greatest places to watch college baseball in the entire country. Unfortunately, at least for local baseball fans, the two stadiums are perfect examples of venues going in opposite directions.
Wichita State, home of the perennially powerful and nationally ranked Shockers, has a stadium that has a great old-time ambience balanced with newly refurbished facilities and even newer ideas that encourage families and student participation. Meanwhile, the recently returfed Murakami Stadium (how about that new turf?) has the promise of just-released funding to replace/and repair the badly-worn stadium seats, but still has major issues with dilapidated restrooms, press box and other poorly kept areas.
Sad, but true. It's a matter of financial commitment and both private and public support.
At Wichita State (where personal disclosure makes me tell you that my daughter Jesica graduates from there next month), both the university and private donors have made a commitment to excellence. All you have to do is walk in the stadium and you see banner after banner testifying to conference titles and regional championships and College World Series appearances. Sponsors' names ordain the out-field fences, and boosters are treated to great seats and a terrific atmosphere. Those sponsors and boosters helped raise more than $8 million a few years ago to renovate Eck Stadium into what Shocker fans believe is the best college baseball stadium in the nation.
One of the things Wichita State did, and this is the idea that I believe that Hawaii can learn from, is the stadium is surrounded by what is called "festival seating" - that is, a place to enjoy the game on the grass behind the outfield fences. It's called "Coleman Hill." (Yes, even the hill is sponsored.) Out beyond the fences on the grassy knolls that make for great viewing of the game, families and students join other baseball fans to barbecue and picnic and throw out a blanket or two to sit on. It's a fabulously fun way to watch a game.
It's also something that could be done so easily - and not that expensively - at Hawaii's Murakami Stadium.
Imagine a local construction company donating tons of dirt that could be piled high behind the outfield fences at Murakami. In the process, the fences also could be lowered to create great sight lines. Then, another company (or companies) could donate the sod that could easily grow in the perfect Manoa climate. Within weeks, you'd have a fantastic seating area where students could gather with the likes of Little League teams and many more local fans galore.
Not enough room to build the grassy mounds, you say? Then bring in the fences to create room beyond the outfield walls. And while I'm dreaming, why not move the infield closer to the stands behind home plate? Do the teams really need that much foul territory?
I don't think so. Neither do a number of architects of other newer/or renovated ballparks around the country. Smaller is better - just ask the fans of such venues as Camden Yards in Baltimore, Victory Field in Indianapolis and other nationally recognized professional ballparks.
The key to improvements like this is vision and commitment and funding. Years ago, the legendary Les Murakami had a vision that turned into 4,200-seat Rainbow Stadium. He got help from both the state Legislature and from private interests. At one time, his vision included several phases in which the stadium would constantly become greater and greater. Back in Wichita, Gene Stephenson, the winningest coach in college baseball, had a similar vision.
Both of the great coaches' visions came true - the difference now is that, in Wichita, they keep seeing what more they have to do and they get out and do it. In Hawaii, we invariably wait too long -and watch things fall into terrible disrepair - before the powers-that-be react.
My hope is that with the naming of Jim Donovan as the new Hawaii athletic director - a former Rainbow Stadium manager, by the way, from the great days of the 1980s - Hawaii will learn from the likes of Wichita State and others and make the college baseball experience in the Islands everything it used to be - and even better for the future.
Now's the time to Shock(er) Hawaii.
Most Recent Comment(s):