Tita, Benny In The New HPU Hall

By
.(JavaScript must be enabled to view this email address)
Wednesday - August 24, 2011
|
Share

Del.icio.us
I bumped into HPU athletic director Darren Vorderbruegge the other day and he couldn't wait to tell me about his athletic department's big event one month from now. On Sept. 24, HPU will host the first ever SHARX Benefit, celebrating 33 years of Sea Warriors tradition and honoring the inaugural class to the school's athletic Hall of Fame.
"It's historic,"
Vorderbruegge says. "We've reached a point in our growth where we can reflect back with a sense of pride and accomplishment. We've had five national championships (three in women's volleyball, and one each in men's basketball and softball), and several AllAmericans, and it's time to begin honoring all of those involved."
The first class includes Benny Agbayani, the school's first All-American and HPU's first and only player ever to play in baseball's World Series, Tita Ahuna, the former women's volleyball national coach of the year who led the SeaWarriors to two NCAA Division II national championships, plus basketball All-American's Jurgen Malbeck and Llewellyn Smalley, and softball AllAmerican Suzie Schoales.
"We reached out to people in the media, community, faculty and staff, and got a wide range of people to give us their thoughts about great accomplishments in our athletic history," he says. "The committee developed a long-range plan where we can honor many outstanding individuals who made a huge impact for us. This class does not necessarily reflect the five most influential people in SeaWarrior sports as we hope to honor several other extremely key people in the coming years. We wanted to spread these honors over several classes and it will take four or five years or more to get all the biggest names."
Certainly, Agbayani and Ahuna are the headliners in this outstanding inaugural class.
"They're unique because of their strong local ties," Vorderbruegge says. "Tita set herself apart by winning two national titles in our first years of Division II. You can't get lucky and win two national championships you have to be very good at what you're doing.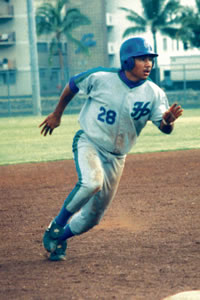 Benny Agbayani. Photos courtesy HPU Sports
"Meanwhile, Benny had such a great career at HPU, and then an outstanding career beyond HPU. He's a great role model and continues to give back to the community serving most recently as a volunteer assistant with our baseball team. We're proud of all the inaugural honorees Jurgen, Llewellyn, Suzie it's a great class!"
In the future, you also can expect names like Sellitto, Wright, Okita, Nakasone and many coaches and great athletes to grace future Hall of Fame classes.
"And we've actually got a 'Hall' now," Vorderbruegge says, gushing with pride. "We've moved our athletic offices to the fourth floor, and the hall has three sections. In the first section, we recognize our five national championship teams; in the second section, we showcase our AllAmericans, and in the third section, we have our Wealth Strategies HPU Hall of Fame. We're appreciative of former HPU athlete Nash Subotic and his company Wealth Strategies for stepping up and helping sponsor this."
The first-ever SHARX (Supporting HPU Athletes Reach eXcellence) Benefit will be held Saturday, Sept. 24, at the Koolau Ballrooms in Kaneohe. Tickets can be purchased by calling Darren Vorderbruegge at 544-0223 or Lauren Conching at 356-5223. The evening also will feature the music of Grammy Award-winner Daniel Ho, a silent auction and more.
"We're so proud to honor several worthy people over the next few years and give them their special place in HPU history,"
Vorderbruegge says. "This will help HPU continue to grow, and motivate us toward future excellence. It's the beginning of something very special."
Most Recent Comment(s):