Tony Sellitto And Fastpitch Softball

By
.(JavaScript must be enabled to view this email address)
Wednesday - May 12, 2010
|
Share

Del.icio.us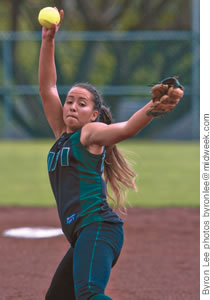 Mid-Pacific sophomore Keiki Carlos is a fastpitch ace
Suddenly, the interest in women's fast pitch softball has peaked in Hawaii. The University of Hawaii is nationally ranked and playing in the WAC Championships this weekend (May 12-15) in Las Cruces, N.M. Hawaii Pacific is nationally ranked and hosting the NCAA DII West Regionals this Friday through Sunday (May 14-16) at Howard Okita Field on its Windward campus. The University of Hawaii at Hilo also will participate in that regional tournament. And the HHSAA state high school championships are taking place at the UH Wahine Softball Stadium Tuesday through Friday (May 11-14).
Fastpitch softball for the talented young women in the Islands is a really big hit!
But there was a time when men's fastpitch softball was extremely popular. Tony Sellitto, the hugely successful basketball coach at Hawaii Pacific and Maryknoll, remembers.
"It was a big-time sport here," Sellitto recalls. "We had military teams, town teams and leagues around the Islands. The top teams from the Mainland would come here to play. The fast-pitch here was really good."
Sellitto himself was a star pitcher and hard-hitting third baseman for the Midas Muffler team that won seven state championships during the 1960s and '70s.
That team included some very notable names: Legendary University of Hawaii baseball coach Les Murakami was the coach and hard-hitting first baseman; his brother and UH assistant coach David Murakami, along with DOE assistant superintendent Clayton Fujie were star out-fielders; and current University of Hawaii at Hilo women's softball coach Fred Entilla was the fleet-footed shortstop.
"Les was a terrific player. He had played baseball at Santa Clara. David was an awesome outfielder, and Clay was a terrific left-handed hitter. Freddy was just outstanding - easily the best shortstop in the state," Sellitto says. "It was a very, very good team."
As for Sellitto himself, he was pretty good, too.
"Tony was incredible. What a competitor!" Entilla recalls. "He never backed down to anybody."
People familiar with Sellitto's snarling demeanor on the basketball coaching sidelines shouldn't be surprised. But he also had a tremendous softball background.
"I played on the Mainland and we won a national championship," Sellitto says.
He played for teams in New Jersey (where he grew up), and also in California and in Colorado, where he went to college.
"I played third base mostly," he says. "But I also pitched a lot of batting practice and I kept getting better and better at it. When I came to Hawaii (in the military), I convinced Les that maybe I could pitch. I had a good riser and a pretty good drop, and I could change speeds a lot."
Sellitto says the Hawaii teams were outstanding, but the fastpitch softball on the Mainland was even better. "They had these giant pitchers who could really bring it," he says.
He's watched over the years as men's fastpitch numbers have declined tremendously. He says there are two reasons: the rise in popularity of slo-pitch softball and the incredible difficulty of playing fastpitch softball at a high level.
"Fastpitch is just too hard for some people," he says. "For example, we had a former major league baseball player on our team and he couldn't hit the rise ball at all. He really struggled in fastpitch. Meanwhile, everybody can play slo-pitch. My old man could play slo-pitch. It's a game that's appealing to everyone."
Sellitto keeps his hand in the game he once played by working with young female pitchers. He's worked with a number of local high school stars over the years, most recently Mid-Pacific's sophomore ace Keiki Carlos. "She's maybe the top pitcher in the state. She's thrown two no-hitters this year," Sellitto says proudly.
With Sellitto cheering her on, Carlos was the winning pitcher in the ILH championship game this past week against Punahou. It was the Owls' first-ever ILH softball title, and they'll now move on to the HHSAA state tournament at Wahine softball stadium this week.
You can be assured that former pitching star Tony Sellitto will be on hand to watch his young protégé keep Hawaii's fastpitch tradition alive and well, even if it looks a little different from days gone by.
Most Recent Comment(s):