Toughing It Out To Lead St. Louis

By
.(JavaScript must be enabled to view this email address)
Wednesday - October 01, 2008
|
Share

Del.icio.us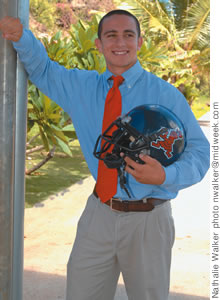 Lucas Gonsalves: 'Our team is really clicking well right now'
It's tough playing hurt. But when you're a very competitive athlete, sometimes you find a way to play through the pain.
Such was the case for Saint Louis Crusader athlete extraordinaire Lucas Gonsalves earlier this month. With two huge ILH Division I football contests against Punahou and Kamehemeha coming in back-to-back weeks, nothing was going to stop Lucas from being on the field as much as possible.
"I hurt my ankle when I scored against Punahou and had to come out," he recalls. Still, his efforts helped the Crusaders upset the then-No. 1-ranked team in the state in overwhelming fashion, 40-19.
With only a week to get ready for the powerful Warriors, Lucas wondered if he would be back in time. "I really wanted to play. Thanks to my trainers, we did rehab, and they taped me up real good. I was able to man it up, and once I was out there, I didn't want to come out," he says.
Amazingly, while playing on the gimpy ankle, Lucas caught a whopping nine passes for 143 yards and a touchdown as Saint Louis came from behind to beat No. 4 Kamehameha 28-20 to take over sole possession of the league lead. In the process, the Crusaders also solidified their hold on the top ranking in the state.
"Our team is really clicking well right now," he says.
With his ankle still hurting,
Lucas was held out of drills this past week (a bye), but says he'll be ready to go against defending Division II state champion Iolani Saturday night at Aloha Stadium. "Nothing's gonna stop me."
Nothing has stopped Lucas in just about anything. He's one of those rare three-sport stars who starts and excels in football, basketball and baseball. At 5-feet 9-inches tall and 165 pounds, he's a thrill-a-minute slotback on the gridiron, a talented guard on last year's state tournament basketball team, and a hard-hitting second baseman/shortstop for the Crusader baseball team.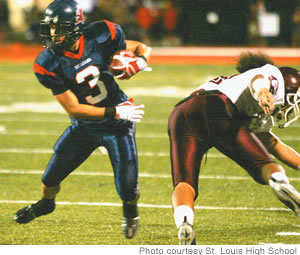 Lucas Gonsalves makes a Farrington tackler miss
"Whatever's in season, that's my favorite," he says. "It feels good to play every sport, and it keeps me in shape from one sport to another."
But right now, his mind is on football. Saint Louis fans love to watch this diminutive star work his magic on the field. Besides catching footballs, he's also the Crusaders' return man on punts and kickoffs. Earlier this season, he returned a kickoff 91 yards for a touchdown against fifth-ranked Farrington.
"They kicked it to the right sideline, but the wall was on the left," he recalls. "I got to the wall and followed my blockers and looked for an opening. Then I had to shake the kicker, and I did, and I took it all the way from there."
Scoring touchdowns is nothing new to the talented senior. But of all his great plays, he still remembers the first varsity touchdown he ever scored.
"It was the first game of the season last year against Kahuku and it was the first game I started," he says. "It was just the third play of the game and we ran a streak up the seam, and Micah (last year's Crusaders quarterback Micah Mamiya) hit me in stride and I took it to the house. That was amazing, and it still stands out."
Lucas continues to have stand-out moments game after game. He has that unique ability only the best football athletes seem to have -the innate ability to make defenders miss him. "I like to set the guy one way and then go the other way," he says. "It's all about angles. I don't have breakaway speed, (but) every time I get the ball I try to make the best of it."
Making the best of it has almost become his motto. Because he's not large in size, he's not getting a lot of college football recruiting offers. He says he's getting the most attention from colleges in baseball. But the question is, could he be that unique athlete who plays three sports in college?
"That may be a hard one to do," he says. "But I could do two. That would be fun."
Having fun and showing amazing skills on many fields of play - even when he's hurt - is what Lucas Gonsalves is all about.
Most Recent Comment(s):