Two QBs Are Better Than One

By
.(JavaScript must be enabled to view this email address)
Wednesday - September 19, 2007
|
Share

Del.icio.us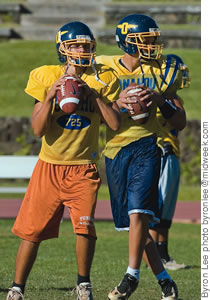 Cayman Shutter (left) and Kimo Makaula work on their drop-backs
The use of dual quarterbacks has never been the norm. In fact, most football fans have called such situations in which a coach utilizes two signal callers in key situations "a quarterback controversy."
But a year ago, Florida head coach Urban Meyer successfully used dual quarterbacks. Chris Leak was the Gators' pure passer and played on most passing downs. Tim Tebow was more athletic, and came in for option plays, trick plays, and short yardage running plays. It must have worked because Florida won the 2006 national championship.
The idea isn't new. Three decades ago, the University of Southern California won the 1972 national title with Mike Rae and Pat Haden rotating at quarterback. Over the years, the New York Giants, Philadelphia Eagles, Washington Redskins, Oakland Raiders and others have had successful NFL runs using two-headed quarterbacks.
Faced with the challenge of who to put in the starting role each week, head coaches simply went with the hot arm. Or, if they needed mobility, the hot feet.
This year, in the local high school ranks, Punahou head coach Kale Ane was faced with a similar situation. He had three outstanding quarterbacks to choose from: juniors Kimo Makaula and Cayman Shutter and senior Pono Akina. Unfortunately, Akina went down with an injury, but that still left the coach with two excellent choices to start the season.
Coach Ane never blinked. He simply flipped a coin.
"Both give us something special," Ane says. "Cayman came in a little more experienced and understands the coverages well. Kimo is a little more mobile."
"I'm really pleased with both of them," says offensive coordinator Daryl Kan, who has a hands-on view of the quarterbacks on a daily basis. For the past couple of seasons, Kan's son Brett was the record-setting quarterback for the Buffanblu, but he graduated after this past season. His departure left the door wide open.
Kan, who was a star quarterback in college and played briefly in the NFL, gave a thumbs up to both junior quarterbacks after a recent Punahou victory - he called the performances of Makaula and Shutter "very efficient."
Throughout the early part of this season, the success of this two-headed quarterback monster has scared opposing defenses. Makaula, at 6-feet-2-inches tall and 210 pounds, is bigger and taller than Shutter, who stands at 6 feet and 175 pounds. Makaula showed his athleticism a year ago when he played linebacker and punter. But both young men have been extremely productive this year.
In Punahou's early season victory over McKinley, Makaula won the coin flip and led Punahou to its first touchdown of the season, an efficiently executed drive in which he completed three straight passes in a 53-yard scoring drive.
Not to be outdone, Shutter came in and completed a 62-yard strike to teammate Kameron Steinhoff for a score. After it was all over, the two had combined for well over 400 yards passing with Shutter getting four touch-down tosses.
The dynamic duo virtually repeated those lofty numbers in a victory over Leilehua a couple of weeks later. At the conclusion of the pre-season, Makaula and Shutter had completed more than 70 percent of their passes for a combined eight touchdowns and no interceptions.
Quarterback controversy? Not. "The reps are equal and we really support each other," Shutter says. "My strength is to have a really good knowledge of our system, to make smart decisions, and to lead by example."
"I feel really good out there," Makaula says. When I asked about rotating the position, he says he supports it all the way. "It helps us get into our rhythm."
That rhythm has the Punahou Buffanblu competing at the highest levels this high school football season. Only time will tell if one quarterback wins out. But for right now, the big winners are the local football fans who continue to enjoy the great performances of "co-starting" quarterbacks Kimo Makaula and Cayman Shutter each week.
Most Recent Comment(s):