Two UH Coaches Say Thanks, Bob

By
.(JavaScript must be enabled to view this email address)
Wednesday - April 25, 2007
|
Share

Del.icio.us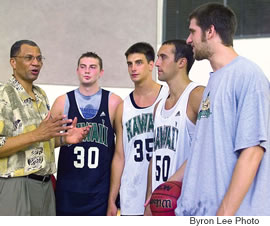 Coach Bob Nash with, from left, P.J. Owsley, Stephen
Verwers, Alex Veit and Todd Follmer
Sometimes good things happen to good people. And sometimes MidWeek is right there to help nudge them in the right direction.
Consider two of my recent columns, one about then assistant UH basketball coach Bob Nash, the other about UH football grad assistant coach Brian Kajiyama.
In the Jan.10 edition of MidWeek, I wrote: "Simply put, Bob Nash is Hawaii basketball. Now he deserves his chance to lead. History says Bob Nash is the choice. The only choice. Hawaii fans deserve the best. And he's sitting on the UH bench right now."
It took awhile - probably too long, actually - but after a nationwide search, Nash was hired as Hawaii's next head basketball coach on April 13. Friday the 13th wasn't unlucky for Coach Nash or the fans of UH basketball.
Here's how classy Nash is: Just a couple of hours after his hiring announcement, Nash called me at home to thank me for helping him land the job. He said that the MidWeek column I wrote made a big difference - reaching, as it did, 268,000 Oahu homes. I was incredibly flattered, to say the least.
"It hit home and expressed exactly the feelings of public sentiment," the new head man told me a few days after the hiring. "It kept the public charged up and my name in front of Mr. Frazier."
Nash says he believes that the nationwide search will actually help him in the long run. "Mr. Frazier went through an exhaustive search and it validated the credibility of why I got the job."
Nash says he will be joining associate head coach Jackson Wheeler on the recruiting trail. "That's our number one concern right now," he says. "I'll be going out on the road, too."
Expect an up-tempo Hawaii team under Nash, but don't expect him to change his cheerleader ways. "I've been a Rainbow almost all my life. We're the Bows. Let's go Bows!"
On April 11, I wrote a column about Coach Kajiyama, the football grad assistant who suffers from cerebral palsy due to complications and trauma to his brain during his birth. But as I wrote then, the wheelchair-bound assistant has already become "the Warriors' most inspirational coach."
I also wrote of his concern about getting onto the field at Aloha Stadium. The stadium had a policy of not allowing wheel-chairs access to the field level. "Now that I'm officially part of the team, I'm wondering if some augmenting is on the line," Brian expressed then.
I wrote in the article that Aloha Stadium should "reward Coach Brian with his own spot on the football sidelines." After the article came out, I e-mailed a copy to some on the Stadium Authority and I also e-mailed interim stadium manager Scott Chan.
A few days later, I received the following e-mail from Chan: "Coach Kajiyama is truly an inspiration to us here at Aloha Stadium. We spoke (to him) several times regarding your request (and) accommodations have been made for Coach Kajiyama to have an all-access pass that includes getting him on the field."
When I shared the news with Brian, he was elated. He quickly wrote back to me his own e-mail: "My immediate reaction is one of excitement and appreciation to you and the Aloha Stadium staff. I realize that there will be conditions attached to the field access, as I know safety of all parties is of utmost importance. But I think this is the greatest thing."
Now, Coach Kajiyama can worry about more important things, like making sure the Warriors go undefeated next year. Oh, and also finishing his masters thesis entitled "Empowerment Through Technology."
Both Coach Kajiyama and Coach Nash proved that there is also empowerment through MidWeek. I'm proud to be a part of all this good news. Good people deserve the very best.
Who's next?
Most Recent Comment(s):