UH Losses Make Bloggers Go Nuts

By
.(JavaScript must be enabled to view this email address)
Wednesday - September 24, 2008
|
Share

Del.icio.us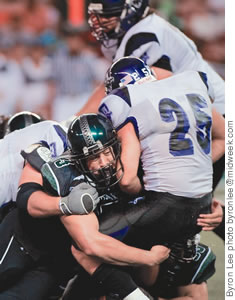 Brashton Satele takes down a Weber State runner
Instant communication is changing the way the world thinks - or at least the way the world sees all of us think in print!
Blogging - or the ability to write down your immediate thoughts, without editing and often without fact-checking, and thrusting it out there into the vast Internet universe - has become the rage in everything from politics to sports.
I don't have to tell you how nasty the blogs are getting during the current presidential election season. But if you think the things opposing camps are saying about Obama and Biden, McCain and Palin are negative, you should check out the football blogs.
Blogging in politics isn't pretty, but blogging in football brings out the most fanatical fringes imaginable.
When veteran NFL official Ed Hochuli blew a late-game call in the recent Chargers-Broncos game - essentially costing San Diego the game - the Charger Internet blogs just about blew up! It wouldn't be proper to write down in a family newspaper what those bloggers wrote, but suffice it to say none of them will be inviting the referee to dinner.
It was so bad that Hochuli admitted to receiving tons of hate mail, and it even led to his own admission that he failed to make the right call, plus a rare apology: "Although it does no good to say it, I am very, very sorry," he said.
Most officials, coaches and players shouldn't be reading what others are saying about them in the blogs. Want to find out which team's fans are losing and unhappy? Just go to their team blog sites.
A recent check of the Hawaii football blog site at warriorsportsnetwork.com reveals that local fans are mixed about the early season performance of their beloved Warriors this year. Coming off an unbeaten regular season a year ago, some fans might have been a little over-enthusiastic about Hawaii's chances in the first few games, despite playing Florida and Oregon State on the road. Two blowout road losses, sandwiched around a come-from-behind win over a lower-division Weber State team, has local bloggers already in a tiff.
"Manoa, we have a problem," one blogger writes.
"Coach Mack reminds me of Coach Von Appen," another says.
"The players got to be held accountable - bench 'em if you have to," says another.
There are many more posts about conservative play-calling, poor special teams play, the rotating quarterback situation, coaching style and much more. And because it's an open forum, there are many defenders: "Typical Hawaii fans, ready to jump ship in only the 3rd game," a blogger writes. "This is only the 3rd game, people - give 'em time!"
Then there are bloggers hurling insults at each other about what makes a "true fan." As one writer opines, it's "almost comical."
Say what you want - and these people definitely do that! - the blogosphere represents a snapshot in time of people's passions, feelings and opinions. The fact that most bloggers hide behind anonymous screen names makes many of these passions, feelings and opinions especially explicit.
My personal hope is that bloggers - and true fans - everywhere, come out from behind their screen names and openly scream their heads off at the next Hawaii home game. The Warriors are back in the friendly confines of Aloha Stadium, Saturday night against San Jose State. It's the WAC opener for both teams, so in many respects, it represents a new beginning and the audacity of hope.
Now, go blog about that!
Most Recent Comment(s):