Waialua Duo Shining For Swords

By
.(JavaScript must be enabled to view this email address)
Wednesday - March 17, 2010
|
Share

Del.icio.us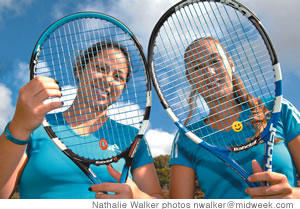 Tiffany De Vincent and Silkie Kawahakui
This is a tennis story with a twist. It's about a small town; it's about a local university and its outstanding academic programs; it's about a growing tennis program that is spurred on by small-town girls and a guardian angel; and it's about a mystery still unsolved.
The small town is Waialua, where generations of local families worked their way through the sugarcane fields. It's a community with a rich history, where almost everyone knows each other, and the country lifestyle often revolves around the beach, the high school, sports and family.
The local university is Chaminade of Honolulu, where the Silverswords are known for a couple of big basketball upsets years ago, but most recently also are known for an up-and-coming women's tennis team that features two players from Waialua High. The two stars from the North Shore are senior Tiffany De Vincent, a member of the Silverswords No. 1 doubles team who also plays No. 2 singles, and junior Silkie Kawahakui, who plays No. 5 singles and third doubles.
De Vincent grew up in Waialua, where she was one of the top-ranked players in the OIA and the state when she played at Waialua High. She wants to attend nursing school after graduation from Chaminade. She says she wants to "combine academic achievements, clinical training and cultural insight to address the underserved health needs of rural Hawaiian communities" - like Waialua. Kawahakui, meanwhile, also was a top-ranked player at Waialua High.
"Being from Waialua is about overcoming obstacles, because it's not the type of school where people pay attention to your record or whether you go to states. To get a chance to compete collegiately, sometimes against nationally ranked players, is exciting," she says. "It's neat having someone like Tiffany here for me, someone a year older who's been there and accomplished what she has. It's awesome knowing that somebody from Waialua can make it and take it and keep their cool."
Chaminade has become a growing factor in local tennis under third-year coach Blake Mosley, and the team's winning record this season bears that out. Off the tennis court is where Kawahakui's field of academic study comes into the story.
"I'm majoring in criminal justice. I want to be an investigator," she says. "I want to learn about the law and learn about how justice is best served and how I can help."
That's where the unsolved mystery gets involved. "Five years ago, on July 31, 2005, my brother was taken from us," she says, explaining the violent shooting death of her 19-year-old brother Thomas - gunned down under mysterious circumstances by an alleged assailant who was initially charged, but never prosecuted.
"He was shot multiple times," she says. "The case is still unsolved. It's an ongoing investigation. I'd like to learn about the justice system and learn about what I can do to understand the laws, so no one else has to go through what our family has gone through."
Kawahakui says she would like to get closure, and hopes it will come through both her academic pursuits and what she does on the tennis court. That's where the guardian angel comes into play.
"Playing tennis is my closure," she says. "My brother would have wanted me to go on doing what I love and not stopping it because of this. It helps me release the tension and provides a good outlet for me.
"He's my guardian angel. Every time I'm out there, I ask him to keep my eyes open and focused. I ask him to give me strength to hit the ball. I ask him to help me to stay calm and cool and guide me in the way that I can win. But more than anything, he helps me give 100 percent every time I take the court. I know he's always there for me."
The mystery of Waialua is still an open case that may never be solved. But an hour's drive away from the small country town, two Waialua tennis stars strive for excellence at Chaminade, knowing that one day soon they may give back to their community.
Most Recent Comment(s):