Warriors Should Go Bowling Again

By
.(JavaScript must be enabled to view this email address)
Wednesday - August 20, 2008
|
Share

Del.icio.us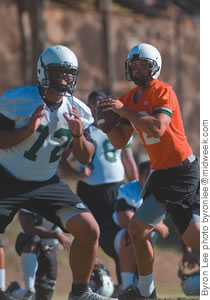 QB hopeful Greg Alexander looks for a receiver
Ah, yes! The season of all seasons is upon us - it's time for college football! And back by popular demand (at least three people requested it) is my annual UH Warrior prediction column.
Last year, I got lucky and correctly prognosticated an undefeated regular season for the men from Manoa (although, admittedly, I falsely suggested they would get snubbed for a BCS bid.) But that was then - with Colt Brennan and June Jones and Davone Bess. This is now - as in, it's time for a new coach and a new quarterback and we're all backin' McMackin.
Because of the new coach and the new system, I brought in reinforcements. My good friend Wayne Coito, an ardent Warrior fan for the past 20 years, came aboard to help me. So blame him if the predictions are inaccurate. (I always believe in accountability.)
First up, Florida. Do we really have to play in the "Swamp" at noon in August?! I wouldn't wish that on my worst enemy! Neither Wayne nor I have a good feeling about this game, and we're both admitted Warrior-aholics. With the Gators averaging more than 50 points a game at home last year, I say Florida, 56-13. Wayne believes it will be shockingly close - he says Florida, 27-24.
Home opener, Sept. 6 against Weber State. Thank goodness for home cookin'. The Warriors should come home against a lower division team and rack up big numbers. I say Hawaii, 63-14. Wayne says Hawaii, 49-10. Who came up with this tough road schedule? Next up, at Oregon State, Sept. 13. The Beavers are expecting a very strong year; Warriors still in rebuilding stages. I say Oregon State, 38-21. Wayne says OSU, 30-20.
OK, so we both suggest a 1-2 start in the early non-conference season. Now, after a week layoff, it's time for the WAC opener against San Jose State Sept. 27. Despite the return of Dick Tomey to Aloha Stadium, I say the Warriors in a rout, 49-24. Wayne says Hawaii, 41-21.
The rough road schedule continues with a date at Fresno State. Other pre-season prognosticators are suggesting a Hawaii-like year for the Bulldogs. Wayne thinks they're nuts. He's predicting a Hawaii upset victory, 31-29. As much as I hate to admit it, I say Bulldogs, 35-24.
Back home for Louisiana Tech Oct. 11. No worry, Warrior fans, this won't be like last year's heart-stopping win over LaTech. I say Hawaii, 59-21. Wayne says UH, 44-17.
The road heads back to the home of the blue Smurf turf and Boise State. How I hate watching games on that field! I know I don't want to watch this one - I say, Boise State, 42-24. Wayne is crying as he says Broncos, 31-21.
A big home date against Nevada is next on Oct. 25. Due to bowl implications - Hawaii needs seven wins to play in the Sheraton Hawaii Bowl - this might be the most important home conference game of the year. I say Warriors come through big time, winning 45-17. Wayne says Hawaii in a close one, 42-35.
Back to the road again with a date at Utah State Nov. 1. I say we get our first road victory of the year, with Hawaii winning, 34-20. Wayne says Warriors in a rout, 45-14.
Another WAC road date at New Mexico State Nov. 8. These November games on the road scare me, but I'll say Hawaii, 27-21. Wayne says Warriors, too, winning 41-28.
Home, sweet home for the rest of the year, and Idaho closes out the conference season Nov. 22. Don't you just love Novembers at Aloha Stadium? The Warriors do. I say Hawaii secures a bowl bid with its seventh victory, winning going away, 66-10. Wayne says he also sees a big win for the Warriors, 59-14.
The Warriors finish up against two tough non-conference foes. First, Washington State on Nov. 29. I say Hawaii with an upset victory, 35-31. Wayne agrees, UH 35-31.
Final regular season date is Dec. 6 against powerful Cincinnati. The Bearcats might have one of the top teams in the country this year. I say Cincy, 42-35. Wayne says Hawaii with an upset victory, 38-21.
So, with me predicting an 8-5 record (all losses coming against Top 25-ranked teams) and Wayne saying a 10-3 record, we both agree that Hawaii will be in the Sheraton Hawaii Bowl Dec. 24. And we'll both go out on a limb and suggest that we'll trounce UCLA on Christmas Eve! How's that for an early Christmas present? Happy Warrior football season, everyone!
Most Recent Comment(s):