What Makes Tita Worry? Everything

By
.(JavaScript must be enabled to view this email address)
Wednesday - November 09, 2005
|
Share

Del.icio.us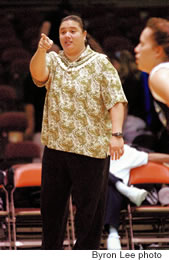 Coach Tita Ahuna
I heard Tita Ahuna on the radio the other morning. The veteran Hawaii Pacific University women's volleyball coach was telling her interviewer that she doesn't get much sleep these days.
"I have no life during the volleyball season," she says, laughing.
Yes, SeaWarrior volleyball is her life. From the crack of dawn until her head hits the pillow at her Papakolea home well after midnight, her thoughts are filled with the details of this 2005 season.
And what a season it has been.
Through last week's play, the SeaWarriors were undefeated in conference and ranked second in the nation. Only a five-set loss in an early season tournament in California has blemished their otherwise spotless record.
And yet Tita lays awake at night, worrying about her team.
"So many things go through my mind," she tells me. "I'm the first one there, the last one to leave. I'm up until almost 1:30 every night. I run on adrenaline and pray I don't get sick."
No, there's no time for that. This week (Nov. 8 and Nov. 12), she has to prepare for arch-rival BYU-Hawaii. So there are game plans to make and practice schedules to keep. But Tita has to play so many other roles, besides that of head coach. Injuries, grade checks, administrative issues - there's so much that the fans don't see.
"When you're a player, the only pressure is worrying about your opponent," she says. "When you're a coach, there's so much more going on."
At times, that means playing amateur psychologist or counselor.
"A lot of counseling," she says. "Recently, one of the girls' grandmother died. And then another girl's brother-inlaw passed away. It helps a lot that (the team) is like a big ohana, an extended family. When times get tough, these girls know who their friends are. And they know their team-mates are there for them."
They also know that Tita is always there for them. Always. The counseling, the worrying - it all pays off.
"You can see how it all transcends onto the court," she says.
On the court is where everything comes together. It's where the SeaWarriors have excelled and where there are high expectations. The words "another national championship" follow Tita wherever she goes.
"I try to downplay that," she says.
But Tita knows what it takes to be a champion. She's probably one of the few coaches in the country who can say that they've won at every level - as a state championship AllState player at Kamehameha, as a national championship All-American player for the University of Hawaii, as a boys varsity state championship high school coach back at Kamehameha, and then as a coach at HPU. Twice, she has guided her beloved SeaWarriors to national titles.
But she also knows that championships are not just given away; they are earned. And with all the talent and all the expectations, she knows that this year's team has to earn it.
"The teams in 1998 and 2000 (when HPU won its previous national titles), they had that one person who stepped it up," she says. "This year's team has 15 leaders. Sometimes it's Vera (Oliveira, the team's All-conference setter). Sometimes it's Barbara (Martin, the team's kill leader). Sometimes its Flavia (Brakling, the hard-hitting outside hitter). And sometimes it's Koko (middle blocker Paula Koikopoulos). To win a national championship, you need to have that someone stepping up consistently every night."
That consistency appears to be the only thing missing from Tita's incredible team this year.
And that's what has her up late at night.
"How can you improve?" she asks herself again and again.
The coach is always searching for the answers. And she won't sleep until she finds them.
That's life during the college volleyball season.
That's the life of Tita Ahuna.
Most Recent Comment(s):