Where Will Te'o Play College Ball?

By
.(JavaScript must be enabled to view this email address)
Wednesday - November 05, 2008
|
Share

Del.icio.us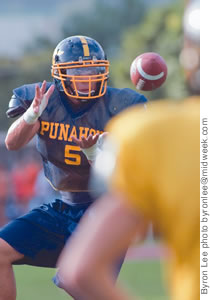 Punahou linebacker Manti Te'o
A little bit about a lot of great expectations and anticipated moments in the local sports world:
* Certainly one of the stories of greatest expectations and one of the most anticipated announcements in the coming weeks will come from Punahou mega-star Manti Te'o. The senior is rated as the top high school linebacker recruit in the entire nation - he's also a great offensive star! - and his decision of where he will play his college football is the subject of great discussion.
Will it be USC?
Trojan coach Pete Carroll hopes so, as he was on the sidelines at Aloha Stadium to watch Manti play late last month. Or will it be Notre Dame? Fighting Irish coach Charlie Weis made his case by standing near the end zone at a recent Punahou home game.
Or will it be BYU?
Many fans in the LDS-rich area of Kahuku and Laie, where Manti grew up, are cheering for that option.
Or will it be UCLA, where Manti's Punahou teammates Dalton Hilliard and Robbie Toma have already committed?
Stay tuned - the much anticipated announcement will be the stuff of Internet conjecture, radio sports talk and local sports headlines for weeks to come.
* Mark your calendar for a hotly anticipated high school football matchup - but mark it down in pencil. No. 1 Punahou takes on No. 2 St. Louis for the ILH title and a berth in the upcoming HHSAA championships on Wednesday, Nov. 12, at 6:30 p.m. at Aloha Stadium. It's also possible that the date could be adjusted to one day later - so listen to that expected scheduling announcement sometime this week.
* Expectations also are running high at Leilehua and Kahuku, where two former state champions are hoping for another shot at a state title next month. The OIA football championship game is scheduled for Friday night, Nov. 7, while the HHSAA title game is set for Friday night, Dec. 5 - both at Aloha Stadium.
* If you're anticipating a great high school basketball season after the football sea- son wraps up, consider that the three aforementioned Punahou football stars - Manti Te'o, Robbie Toma and Dalton Hilliard - are also starters on the Buffanblu basketball team that will be back to defend its Division I state title this year. All three say they will be ready to make the transition and are looking forward to a little basketball diversion after the long and tough prep football season, and even tougher recruiting season.
* One person who looked forward with great anticipation to last week's World Series was former Philadelphia Phillies scout Dean Sato. Sato, who also is a former high school and collegiate coach, loved the fact that his beloved Phils were able to showcase their talent. "They had the right people and the right chemistry, and of course, I'm also so proud that the Flyin' Hawaiian (Shane Victorino) is on the team," he says.
* Finally, for those baseball and softball players who have great expectations and are hoping to take advantage of what they saw in the recent World
Series, Sato's Champion Edge Foundation, is offering plenty of baseball learning opportunities in the coming days. First, there will be weekly baseball clinics on the following Sundays at Kilauea District Park: Nov. 9, 16 and 30. The clinics are for youngsters between the ages of 7 and 12, both boys and girls, from 10 a.m. to noon.
And for youngsters of all ages who want to learn hitting from a former Major Leaguer, former Yankee Matt Nokes will conduct a hitting seminar at Kahala Elementary School Nov. 14, with a hitting clinic at Kapalono Park in Kaimuki Nov. 15. Contact Dean at .(JavaScript must be enabled to view this email address) or call him at 306-8282.
Most Recent Comment(s):