Whitlock: Time To Get On With Life

By
.(JavaScript must be enabled to view this email address)
Wednesday - February 15, 2006
|
Share

Del.icio.us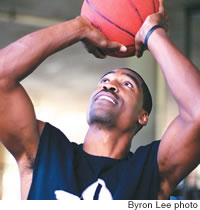 Tes Whitlock is finding there's more to
life than basketball
Perhaps it was in Winnipeg, Manitoba, or maybe it was in Salina, Kansas, or possibly in North Charleston, South Carolina. But somewhere on the great North American continent, Tes Whitlock got the message.
"All sports dreams don't come true," the former University of Hawaii basketball star says.
Whitlock's dream was to play at the highest level of hoops. The NBA.
It had been that way since he was a high school sensation in Anaheim. He once scored 68 points in a high school game. And the NBA was still his dream when he was a phenomenal shooting guard at UH. He tickled the twine for 37 points against Seton Hall one night.
Perhaps his most spectacular moment came in 1995 against arch-rival BYU. It was in the final, frantic seconds of a tie game that Whitlock captured the ball more than 25 feet from the basket and in one twisting, but graceful motion flung it towards the goal. Swish! Pandemonium erupted - the Bows had beaten the much-hated Cougars.
"Once you wear a Rainbow uniform, you're a Rainbow for life," he says of those exciting days in the mid-'90s.
But there were difficult times as well. He was suspended for part of his senior season, and he admits to having what he calls a "rocky" relationship with Coach Riley Wallace.
"Riley and I are better these days," he says.
The reason for that says a great deal about why Whitlock never realized his ultimate dream. And about what he's doing right now in his life.
"I was in my NBA dream for about five years after I left UH," he says. "I played in the CBA, the IBA, the ABA and the USBL. My last stop was in the NBA Development League. I went from a 2-guard (in college) to point guard. I was decent."
He also eventually came to the realization that he wasn't going to be wearing the uniform of the San Antonio Spurs or Los Angeles Lakers anytime soon.
"I'm 33 now and when I'm thinking really freaky crazy, I still think it's going to happen. Anybody who's ever played sports thinks like that," he says, laughing out loud.
He further realized that he needed to think about life after basketball.
"My whole thing had been the NBA. But I had some things going on inside me. I read self-help books. I read religious books. I needed self-realization, to be more considerate of the people around me, less selfish. I needed to give back," he says.
So, last year, Whitlock formed his own company in Hawaii, Off The Bench.
"Off The Bench is about all the things I learned along the way," he says. "I'm doing personal training and I'm putting two basketball leagues together." One is a streetball league fashioned after the popular outdoor games on the Mainland, and the other is a conditioning league for high school players.
His new company is also about Whitlock's new philosophy on life after basketball.
"Off The Bench is based on seven energies of sports and life," he writes in a letter to potential sponsors. "These energies are effort, vision, condition, problem solving, belief, change and decision-making. If that athlete succeeds in sports, mission accomplished! But what happens when you don't? How does that athlete fill the void of disappointment?"
Tes Whitlock hopes he can provide the answers to those difficult questions. He's lived the dream. Now, he's living the after.
He's looking forward to sharing his experiences with the dreamers of tomorrow. You can reach Off The Bench at 206-0156. Or you can e-mail him at .(JavaScript must be enabled to view this email address).
"I don't regret not going to the NBA," he says. "I want to be a good person. I want to give back."
Off The Bench is that chance.
Most Recent Comment(s):