With MidWeek, It's Personal

By
.(JavaScript must be enabled to view this email address)
Wednesday - July 22, 2009
|
Share

Del.icio.us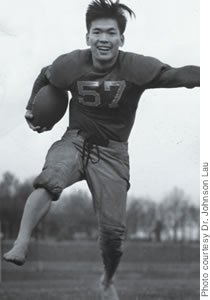 Doc Lau in the days of barefoot football
Nothing makes me feel better about what I write in MidWeek each week than receiving a thank-you note.
I got my latest note in the mail the other day from Dana Takahara-Dias, the new UH Wahine basketball coach. The best part of her "thank you" was the comment that her sons had read the column and thought "Mom sounded cool!" That really touched my heart.
That's what MidWeek does each week - it touches hearts of people all around the state of Hawaii.
I learned that from the beginning, back in 1988 when I first joined MidWeek as a columnist. Everybody reads MidWeek - I mean everybody. The lady at the Kailua supermarket, and the Hawaii Kai businessman who works downtown, and the student at the university in Manoa, and the dockworker at Pearl Harbor, and the military family at Schofield. That's what makes writing for MidWeek - and sometimes receiving those thank-you notes - so special.
Actually, I had never written professionally before I started this column. My position as a sportscaster at KHON-TV meant that I covered stories on a daily basis, but I had never seen anything of mine in print. I honestly didn't even know the process of writing when I began.
I remember spending countless hours mulling over those first column ideas in my head. Then I sat down with a pen and paper and began writing - longhand! If that wasn't time-consuming enough, I would read the column out loud to my wife, Joanne, who was kind enough to give her seal of approval. Then I would sit down at the dinner table and copy over the entire document. Finally, I would drive to MidWeek's offices in Kaneohe and drop off the column on Monday morning.
Just a few years into this process - in which I eventually became much more efficient - Joanne passed away from heart disease. As part of my grieving, I decided to write about her.
The outpouring of mail from that very personal column was tremendous. I read every letter - several of them more than once. And I answered every one. It helped me through that difficult time, and it underscored just what MidWeek means to the people of these wonderful islands.
MidWeek means personal stories. Over the past 21 years I have written more than 1,000 of these weekly columns. Sometimes I have written personally about my children and my parents and grandparents and my passion for sports - but mostly, I have written about people you know or would like to know better. Hopefully, I've touched your hearts like many of you have touched mine.
I've written about the 59-year-old baseball player and the 85-year-old former barefoot football star. I've written about the Little League mom and the University of Hawaii football star. I've told you about the hardworking student-athletes in the Pacific West Conference and about the coaches who sacrifice many hours coaching at the high school level. At the end of each year, I would put together a list of "nice people" in the world of local sports.
Each column comes with a little piece of my heart.
Most of the columns have been very positive, although there have been a few exceptions. Occasionally something would get my dander up, and I would write about that, too. At various times, I was critical of young athletes with long hair, the lack of shot clocks in high school basketball, a once-proud college baseball program and a former (now thankfully departed from the Islands) UH athletic director.
Some of you didn't agree with my comments in those columns and you wrote to me about it. I'm thankful for that, too. You showed me a piece of your heart.
Finally, I would like to say thank you to the people at MidWeek who have allowed me this great opportunity for more than two decades - from my first editor Vera Benedek to today's outstanding veteran crew: Don Chapman, Terri Hefner and Linda Dela Cruz. I've never worked anywhere where my bosses are so supportive.
Thank you from the bottom of my heart.
Most Recent Comment(s):