Young Paddler Piling Up Victories

By
.(JavaScript must be enabled to view this email address)
Wednesday - May 24, 2006
|
Share

Del.icio.us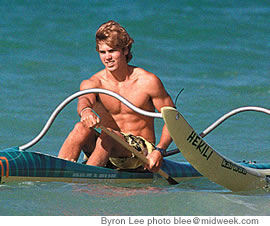 Maryknoll's Patrick Dolan is an outstanding paddler
and kayaker
Amazing.
That's the word used most often to describe the rapid kayaking success of Maryknoll senior Patrick Dolan.
An outstanding student and an all-ILH paddler, Dolan picked up kayaking for the first time a year ago and almost immediately began making a big splash on both the national and international kayaking scene.
"Amazingly, he just picked it up and started beating everybody," says his proud grandfather, Will Rich of Kailua.
In just his first year after joining the successful Hawaii Canoe Kayaking Team (HCKT), Dolan won races from San Diego, Calif., to Lake Placid, N.Y., and even as far away as Hungary. He took home several age-group gold medals in the U.S. National Championships in Seattle last summer, and already has his sights set on making the U.S. Olympic team in Beijing in 2008.
"The plan is for me to finish up paddling and then start working on kayaking full time. I'll be at (the national training center) in Chula Vista starting this summer, training full time for the Olympics," says Dolan, who will turn 18 this week on May 24.
His immediate success in the kayak came after several years participating in water sports in Kailua. His grandfather, a former Senior Masters paddler for Lanikai Canoe Club, and who lives upstairs from Dolan and his family, was his inspiration.
"He's been like a father figure for me," says the young paddling sensation. "My granddad has been there for me; always been my guide. He helps me stay strong."
Dolan's success on the water also keeps his grandfather feeling stronger. The elder Rich is now battling cancer, but "listens constantly for the race results," says Ann Dolan, Rich's daughter and Patrick's mother.
Earlier this month, the whole family cheered on the success of Patrick. Paddling with Kai Bartlett as his teammate, Dolan just won the Starbuck's Kaiwi Channel Relay, a grueling 40.2-mile one-man canoe event from Molokai to Oahu in which partners switch off.
And this past winter, with his younger brother Ryan and several other paddlers who grew up together with Lanikai Canoe Club, Dolan helped power the Maryknoll paddling team to its highest finish ever.
"We never even had a varsity team before, but we finished second in the ILH," he says. "At the state championships, I felt like we were going to win, but I broke my paddle and we finished third."
Dolan says he loves the open water of paddling where he says his success comes from "going with the ocean," he says. "I just follow the bumps and let the ocean do the work."
Kayaking is a totally different discipline, and he loves it, too. "It's all about balance," he says. "It's completely technical. You're always thinking; trying to make every stroke the most efficient possible."
Dolan's attention to the technical details of kayaking allowed him to earn a spot on the U.S. National team this summer. "I went to the trials in Chula Vista and earned a seat on the junior World-4 team," he says. "I'll be going to Germany and Italy to compete (next month.)"
From there, it's on to the National Championships again and probably even more gold medals. "Our whole HCKT team is hoping to do well there," he says.
In the meantime, he works out constantly in the waters around Kailua. If he's paddling, it's out on the open ocean from the Windward side to the Town side. If it's kayaking, he's on the inland canal that reaches from Kawai Nui Marsh to Kailua Bay or out on Enchanted Lake.
One stroke after another, he feels the gentle push of his grandfather. "He makes me be the best I can be," says Dolan.
And the results for Patrick Dolan continue to be simply amazing.
Most Recent Comment(s):