By
.(JavaScript must be enabled to view this email address)
December 19, 2008
Share
|

Del.icio.us
|

Podcast
|
KimosVegas.com
|
Hawaiian Airlines Discount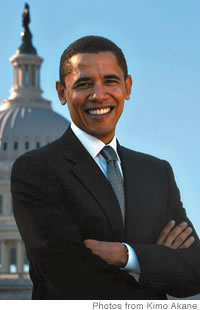 President-elect Barack Obama plays poker
WELCOME TO Kimo's Vegas ... The Player's Edge!
BARACK OBAMA will not be the first president to have played a few hands of poker - his winnings or losings are typically in the $50 range. People who've played with him say he attributes his winning to skill and losing as just bad luck. Online poker players are hoping the president-elect's proclivity will further their cause to legalize online games ... I'll bet you it's not high on his priority list.
IT'S OFFICIALLY a Hawaiian Christmas when the Makaha Sons perform on Christmas Eve at the Cal with Kealo Koko. Tickets are on sale now at the Players Club.
YA GOTTA LOVE the guys at Frankie's Tiki Room, the only Tiki Bar in Vegas, because on New Year's Eve when the clock strikes midnight in Hawaii (2 a.m. in Vegas) guests get a complimentary Fink Bomb. The shot is made from a blend of 160 proof rum, melon liqueur and pineapple juice ... Now all they need is Don Tiki to ring in the new year.
NEW YEAR'S EVE LIVE on Fox will showcase American Idol winner David Cook live from the Mirage right before Robbie Knievel attempts to jump the hotel's volcano at midnight.
NEW YEAR'S EVE ENVY ... ESPN has a one-hour special, Red Bull: New Year. No Limits. Motocross star Robbie "Maddo" Maddison will jump his bike more than 120 feet high to land on the top of the Paris Las Vegas' Arc de Triomphe. Then he plans to freefall 50 feet to a landing ramp below the Arc.
VEGAS JACKPOT: At Major League Baseball's winter meetings, CC Sabathia got the fourth biggest deal in baseball history and set the record for a pitcher. Experts estimate the Yankee's $161-million contract is equal to $100,000 a strike.
OR YOU CAN check out Pink's "Funhouse" when she and exhubby Cary Hart celebrate at his club, Wasted Space, just before her concert.
AT BODY ENGLISH, Paris's ex Benji Madden is on the turntables, and the club will be giving away $5,000 or $10,000 every hour from 11 p.m. to 2 a.m.
WHAT CAN YOU DO? The owners of the Falls golf course in Lake Las Vegas say they can't afford to keep it open, they can't afford to maintain it, but they can't afford to close it.
AS STRIP REVENUES FALL 26 percent from October 2008, the Venetian and Palazzo let go 216 of their 10,000 employees in an attempt to shave $100 million in expenses next year.
ON JAN. 11, CAT bus fares are going up from $1.25 to $1.75. The Deuce (double-decker Strip bus) will go from $2 to $3. Kimo's Vegas Tip: Buy the full-fare CAT pass for $4 or the full-fare DUCE pass for $7.
WHILE MOST AIRLINES are cutting back the number of flights, Hawaiian Air is adding a third HNL to LAS round trip. The Monday, Wednesday,
Thursday and Friday trips start Feb. 23. Now you can leave at 8 a.m. on HA6 in addition to the late-afternoon HA18 and nighttime HA8.
SEVEN OUT: Green Valley Ranch Palms, Sunset Station and South Point are no longer offering free shuttles, and the Harrah's and Sam's Town shuttle schedules are less frequent.
IN PREPARATION FOR the grand opening of Encore, Steve Wynn's latest hotel, he sent a team over to the New Frontier to take down (with permission) the eyesore ... er, sign.
Most Recent Comment(s):