By
.(JavaScript must be enabled to view this email address)
January 25, 2012
Share
|

Del.icio.us
|

Podcast
|
KimosVegas.com
|
Hawaiian Airlines Discount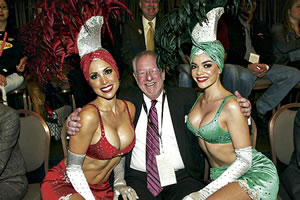 Goodman and friends. Photo from Kimo Akane
WELCOME TO Kimo's Vegas ... the Player's Edge!
FORGETABOUTIT ... This Valentine's Day, seven couples will be chosen to get hitched in the "Married at The Mob Museum." Your ceremony will be officiated by the mob's legal eagle Oscar Goodman, who later became the carpo di tutti capi (the boss of bosses) for North Las Vegas. Winners also receive 250 shopping sprees at the Fashion Show, a Cabana Suite at Bugsy Siegel's old place "The El Cortez," brunch at the Mob Bar, flowers, etc. Enter to win at Vegas.com/weddings, and a mob name like "Junior Lollipops," "Tony Bagels" or "Hootie" is optional.
GUNG HEI FAT CHOY ... Did you know China is the No. 1 international market for Las Vegas? Check the Fremont Street Experience's first-ever Chinese New Year celebration, titled Chinese New Year-Dragon In The Desert, Jan. 24 through 28. The festival kicks off every night at 6 with dragon and lion dances, a Vendor Village with Asian foods and arts and crafts, and a virtual dragon dance and fireworks on the Viva Vision canopy. No Vegas celebration is an official celebration without the King ... Bring your best karaoke to the first street stage with host Thai Elvis Prasith and win some prizes.
IF YOU scour the earth in search of the man's best brew, then Public House in the Venetian is a must-do. Among the more than 200 different suds, 24 taps and rotating casks of unpasteurized ale heaven, you'll find the only cicerone in Las Vegas. As a graduate of the Hawaii public high school system I had to look it up, but in this case a cicerone is a "beer snob," unless you are a beer snob, then they are known as "certified beer servers," whose mission is to improve beer quality via knowledge and tasting skills ... as Uncle Don used to say, "Suck 'em up!"
AFTER 500 YEARS, Leonardo da Vinci makes his Vegas debut ... The Palazzo has unveiled the only authenticated sculpture by the Renaissance man who would have been at home in Sin City.
LAS VEGAS-BASED online retailer Zappos got hacked, and 24 million customer records were comprised. Financial data was not involved, but you might check your credit cards and change your password just in case.
A SIGN OF hard times is when people do desperate things ... An armed gunman entered an employees-only area of O'Sheas casino and took an undisclosed amount of cash from workers.
WORLD SERIES of Poker champion Josh Duhamel was beaten and robbed of more than $100,000 in euros and Canadian money in his Montreal home. A Poker Stars watch and a WSOP bracelet also were taken during the home invasion. Auwe ... At the arraignment, evidence proved that his 20-year-old exgirlfriend was the mastermind behind the theft and beating.
IN MICHIGAN, a Bank of America coding error allowed a gambler to withdraw an unlimited sum of money over a 16day period. By the end of his spree, he had withdrawn $1.54 million from casinos in Detroit and Las Vegas ... Big mahalo from the guys who fill the machines for the OT. Did you know there are more than 1.2 million ATMs in operation and on average fewer than 30 are stolen in a year?
FOLLOW US on Twitter, like us on Facebook and get the latest Vegas news online at KimosVegas.com and every week here in MidWeek. Send me your Vegas questions, mana'o, photos and reunions to .(JavaScript must be enabled to view this email address).
Most Recent Comment(s):