A Climatic Meltdown In Alaska

By
.(JavaScript must be enabled to view this email address)
Wednesday - August 29, 2007
|
Share

Del.icio.us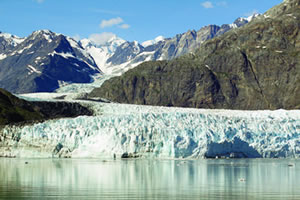 Alaska's glaciers, forests and wildlife are being hit hard by global climate change
Back from vacation, and I've missed you. Being away actually does make the heart grow fonder, at least until you get back into the old routine and start grumbling again. I have to say it's really hard having no access to e-mail and cell signals - sort of like being stranded on a desert island, alone, deprived and cut off from civilization.
OK, I'm exaggerating just a little. We were on a big ship surrounded by lots of people eager to be our friends and cater to our whims.
And food? Well, let me put it this way. Everything you've ever heard about people coming home from cruises waddling like ducks is true. Believe me, there was food.
What impressed me about Alaska other than the vast, gorgeous wilderness, the whales, orcas and dolphins leaping and racing about in the waters surrounding our floating hotel, the glaciers, and the ubiquitous salmon making their valiant trek upstream to certain death?
People. There is a certain type of person who chooses to live in a town accessible primarily by boat and floatplane. These casually hardy folk shrug off minor inconveniences. Like having no town doctor. They speak matter-of-factly about the absolute necessity of having backup heat in every home - the better to survive long, cruelly frigid winters. In fact, unlike here at home when tourists come all year round, the season in Alaska consists of the more hospitable summer months. Many of the people we met in these tiny towns along the Inside Passage were part-time residents. After the cruise season they pack up their goods, shutter their stores and go spend the rest of the year in more comfortable climes.
Those who remain are the ones I'm talking about - independent, rugged and committed. And they are concerned. Global warming isn't an abstraction here, it is a frightening reality.
With our untrained eyes we saw the Alaska we always imagined - a wild wonderland where nature rules. But the parts of Alaska we didn't see on our cruise of a tiny portion of this massive state are the scary bellwethers of change.
The natives see it. The mean temperatures in parts of the state have risen 5 degrees in the summer and 10 degrees in the winter since the 1970s. The state's Republican Sen. Ted Stevens is quoted in The New York Times as saying, "Alaska is hardest hit by global climate change than anyplace in the world." Among the consequences, Stevens says in the interview, are "sagging roads, crumbling villages, dead forests, catastrophic fires and possible disruption of marine wildlife. These problems will cost Alaska hundreds of millions of dollars."
Why should we care? Because what happens in Alaska is a predictor of big and scary changes to come all over the world. It's been happening there for a long time. We're just noticing now because it's affecting us.
I'm glad we got a glimpse of the frontier that is Alaska. I'd like to go back, further north, and deeper. And I'd like to go before ecological upheavals alter this magnificent land and seascape forever.
In the meantime, what can we do? I'm a firm believer in the collective power of committed individuals. Make changes in our own lives while calling upon our leaders to take action. Make them understand we are ready do the right thing, even if it's a little less convenient and a little more costly. Save the world before it is irrevocably, undeniably lost to us and to the generations to come. It's not too late. Not yet.
Most Recent Comment(s):