'A Fine Line' For The Mentally Ill

By
.(JavaScript must be enabled to view this email address)
Wednesday - May 14, 2008
|
Share

Del.icio.us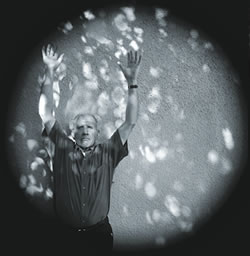 Artist Michael Nye's photos are on view at Linekona Art Center
You can see it in their eyes. The eyes hint at lives shattered, interrupted and repaired, piece by broken piece. The eyes have looked into the faces of others and seen fear, pity, hostility - and sometimes, although too rarely, compassion - staring back at them.
There is a fine line between mental health and mental illness. And when a person crosses that line the result is emotionally devastating for the person and for his or her friends and family.
The exhibit currently showing at Linekona Academy Art Center allows us to peer into the eyes and lives of people who struggle with the pain and stigma of mental illness. Mental Health Kokua sponsors the interactive, multimedia photo exhibit by artist Michael Nye.
The purpose of the event, according to CEO Greg Payton, is to reduce the stigma of mental illness: "Probably no other human condition receives as much misunderstanding and prejudice as mental illness."
Payton says it is that stigma that is the biggest obstacle in the way of helping people with mental illness get a job, get housing and become part of the community.
I spoke with Nye, who spent four years traveling around the country meeting people, talking with them and photographing them. He believes this is an issue that touches every family.
"I had a very close friend who committed suicide," he says. "My father had dementia. There was depression in my family."
He not only takes evocative pictures of his subjects, he allows us to hear in their own voices and their words what it's like to live with their disability, or be rejected by their family.
"There's value in holding on to people's experiences," he says. "What is forgotten is lost. The people in the exhibit are teachers. The people who go in are students.
"I've learned a lot about human nature."
His subjects told him about the strategies they developed to deal with their illness, what they think of their psychiatrists and psychologists.
"What is the experience of mental health? Every one is different and unique."
For example, one subject, a woman with profound depression, was hospitalized many times. You'll hear her describe what depression is like. But you'll also hear her tell how she came out of it.
"The stories are in context to someone's larger life," Nye says. "It's about having an illness in relation to their interests, cares and vulnerabilities. Everyone wants the same thing- to be respected. To contribute."
And perhaps the biggest contribution they will make in their lives is to share their voices with us. Mental Health Kokua's Payton says this could help us understand that people with mental illness are just people, like you and me.
"Living with a chronic mental illness," Payton says, "is like living with chronic diabetes or a kidney condition. The challenge is rebuilding your life."
Unfortunately, he says, "it only takes one sensational headline or media news report about some terrible event to perpetuate the attitude that people with mental illness are dangerous and unpredictable. People with mental illness are no more dangerous than the general population."
And he says family caregivers will be especially moved and supported by knowing they are not alone.
He and Nye are hoping you will come to see and hear for yourself. The exhibit is on view at Linekona through May 31.
Ultimately, what they want you to take away is a message of hope. The people in "A Fine Line" have walked on the edge of that line, fallen off and stumbled through the darkness. They are living proof that is possible to pick yourself up, restructure your life and find your way back to the light.
Most Recent Comment(s):