A Mystery Rise In Food Allergies

By
.(JavaScript must be enabled to view this email address)
Wednesday - November 19, 2008
|
Share

Del.icio.us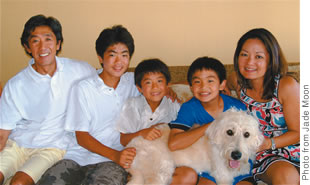 The Lius family: (from left) Alfred, Nicholas, Alexander, Jonathan and Karen with Chelsea
Alex Liu is 8 years old, and he has never, ever had a peanut butter and jelly sandwich.
He's never eaten at a Chinese restaurant. Never tasted shoyu chicken. And when he sits down to dinner this Thanksgiving, he can forget about the stuffing or the pumpkin pie.
Alex has allergies, and they are so severe that eating the wrong food can make him very, very sick. It could even kill him.
You probably know a few people with food allergies. They're the ones who have to stay away from certain food - shellfish, for example - and for many, it's simply an inconvenience. But for Alex it is much more than that. He has to stay far, far away from wheat, soy, dairy, eggs and peanuts. Think for a minute about what that means, especially to a kid.
"I don't like it," the Iolani third-grader says, " 'cause I can't eat cupcakes. Or cake. Or ice cream."
"He's never had a pizza," says his mom, Karen. "He's never had birthday cake."
His dad, Dr. Alfred Liu, adds, "Karen has to prepare every meal for him."
And Alex isn't alone. It's a challenge faced by more people every year, according to information provided to me by Dr. Jeffrey Kam, Chief of the Department of Allergy and Immunology at Straub. A couple of weeks ago the Centers for Disease Control and Prevention made a startling announcement: 3 million kids in the U.S. had food allergies in 2007. And the numbers have increased a whop-ping 18 percent over the last decade. In a two-year period, almost 10,000 children were hospitalized as a result of their allergies.
And children with food allergies are two to four times more likely to have related conditions such as asthma, eczema or other allergies.
The scariest thing is no one knows why. Is it genetic? Environmental? More awareness or exposure? Modified foods? Or is it all of the above, as some scientists suspect?
Al Liu, a surgeon, is hopeful that researchers are getting closer to coming out with medications that will lessen the severity of the symptoms, making the allergy attacks less potentially lethal.
In the meantime, the entire Liu family is in it together - Al, Karen, and their two other sons Nicholas and Jonathan - all are affected by Alex's allergies. Everyone has to be careful what they eat, what they touch, and what goes on around Alex at home and in public. They do a lot of hand washing.
When they travel, there are certain rules - they bring a suitcase full of Alex's special food and another full of his medicines. When they travel by air, they book the last two rows in the very back of the plane so there's no one behind him, and they can surround him on all sides like human shields. After all, you never know when someone's going to tear open a bag of peanuts. And they don't stay at hotels because they need to have a kitchen.
Alex watches out for himself, as effectively as any kid his age can. Of course he knows it's serious, but he's a typical, kolohe 8-year-old boy who just doesn't dwell on the bad stuff. He hates it, though, when other kids tease him by throwing cookie crumbs at him or eating Cheetos right next to him. Those are some of the reasons he's supposed to carry an EpiPen at all times, just in case he goes into anaphylactic shock.
"But," he says, "I forget." "And that," Karen retorts, "is why you're not allowed to go anywhere by yourself."
He's grinning. She's not. She worries about her son every single day.
The Lius can tell a lot of stories about the close calls Alex has had. Like the time he ran a triathlon at Ko Olina and someone handed him a drink in an opaque bottle at the end of it. Before his parents could stop him, he swallowed it, and almost immediately began feeling sick. They rushed him to a nearby ambulance. Karen says they didn't take her seriously.
"I told them, look at his skin, he started getting a little blotchy. And they said, well he just ran a race ... they were trying to reassure me, and they listened to his lungs, which were clear, so they really didn't think it was anything."
But his blood pressure dropped, his airway swelled and, Al says, "he proceeded to get worse and he passed out."
They administered the EpiPen themselves.
That's one of the reasons the Lius agreed to tell their story.
"What we're trying to do is, we want - especially emergency personnel - the firemen, policemen, the lifeguards, the paramedics - to be aware of allergy as a life threatening problem. Not just heart attacks, strokes, things that they are very capable of handling. But a little kid goes into anaphylactic shock, and they're not quite sure and they only have seconds."
I told their story to Jeff Zuckernick, an associate professor at Kapiolani Community College who trains emergency personnel and who works as a paramedic himself. He wants to reassure the Lius and other parents like them that EMTs and paramedics in Hawaii receive "significant training on recognition, treatment, stabilization and transport of those people with anaphylactic shock. We also train in the use of several different medications to treat it ... including epinephrine and albuterol and fluid replacement."
That is critical, because emergency personnel may be seeing more kids like Alex if the problem continues to grow. And the Lius have learned that they are their son's first, last and best defense against disaster. They would like to spread the word so that the public is as familiar with EpiPens as they are with CPR.
As for Thanksgiving dinner at the Liu house? While everyone else digs into the traditional feast, Alex will happily chow down on steak and rice and veggies. For dessert he can have ice cake and gluten-free cookies. And he will play and fight with his brothers and hug their dog, Chelsea. For a special kid, Alex is about as normal as you can get.
Most Recent Comment(s):